New York City is one of the most important, influential and exciting cities on earth and though it may not be awash with palm-lined beaches and tropical islands, it is considered by many as one of the world's must-visit holiday destinations, a truly one-of-a-kind, unique, vibrant, cosmopolitan and diverse city with attractions in abundance. The skyscrapers, yellow cabs, Hudson River, Central Park, Statue of Liberty and the Empire State Building are just some of reasons why the 'Big Apple' is truly special.
Located on one of the largest natural harbours in the world, New York City is divided into 5 boroughs – the Bronx, Brooklyn, Manhattan, Queens and Staten Island – and each offers its own unique experience.[ReadMoreMob] The Bronx and Queens are huge multi-cultural and multi-national neighbourhoods while Brooklyn and Manhattan are the city's iconic boroughs. With their awe inspiring skyscrapers and soaring office blocks, world renowned monuments, historic buildings, restaurants, theatres, parks and much more, Brooklyn and Manhattan are home to some of the world's most incredible sights and attractions.
Be sure to explore Manhattan to experience the truly unique way of life. The borough never sleeps and is the heartbeat of the city. Take a walk through the vast concrete canyons of the financial district; visit the recently finished One World Trade Center and the incredible 9/11 memoral; enjoy a relaxing walk through the iconic Central Park; then head to Times Square to be dazzled by the bright neon lights and signs before taking in a show on Broadway.
If you're looking for a place to relax, away from the hectic, noisy streets of the city, Coney Island is well worth discovering. Located in South West Brooklyn, the pretty beaches and famous amusement park seem a world away from the large buildings and packed streets of Manhattan and has been attracting holidaymakers from near and far for decades.
Cruises to New York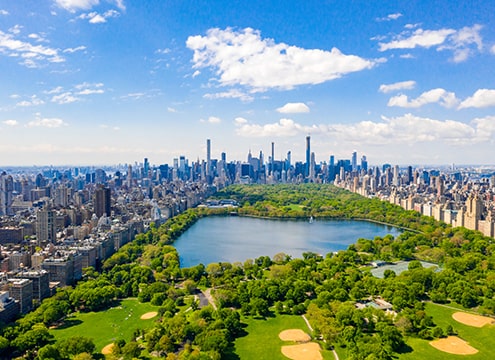 Departs: Southampton • Tue 26 Sep 2023
34 nights • Balmoral • L2323
Experience the seasonal splendour of North America's East Coast in the fall, with rare explorations of scenic waterways and visits to remarkable cities in the US and Canada.
Admire scenes of autumn-coloured woodlands as you sail the Cape Cod and Chesapeake & Delaware Canals; and enjoy a special journey along the Hudson River.
Sail by the Statue of Liberty and spend two days in New York; visit Baltimore, gateway to Washington DC; immerse yourself in Nova Scotia and Newfoundland's natural beauty; and much more.
From £5,299pp
Fares Explained
|
What's Included