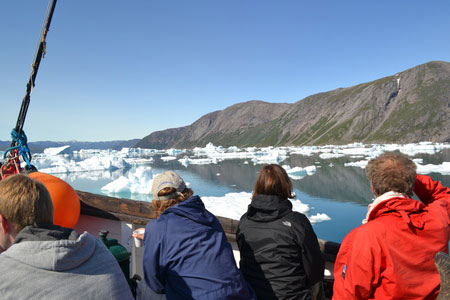 Narsarsuaq is a small settlement in the Kujalleq municipality in southern Greenland, with a population of no more than 200 inhabitants. Around Narsarsuaq, the attractions include a great diversity of wildlife, gemstones, tours to blue-ice glaciers, and an airfield museum.
Just outside of Narsarsuaq is Signal Hill, offering panoramic views of the fjord and the icebergs which can occasionally be seen floating past. Inland is the stunning Narsarsuaq Glacier which grows out of the ice sheet of Greenland's interior. The stunning blue ice of the glacier is within walking distance and is reached via the picturesque Flower Valley.
Based around its international airport - a former US Military Airbase - Narsarsuaq is one of Greenland's most popular tourist destinations.