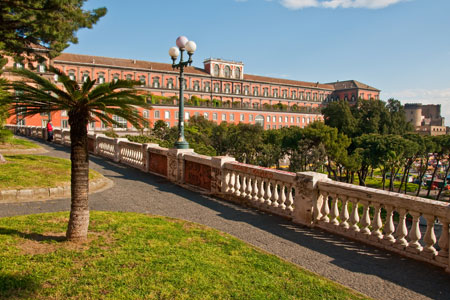 The southern Italian city of Naples, dates to the 2nd millennium BC, and has centuries of volcanic drama, art and architecture all robustly perched on the Bay of Naples.Naples can feel chaotic, tattered and neglected on first sight, but go beyond the ruggedness and a city of breath-taking frescoes, elegant sculptures and superb panoramas can be uncovered.
Naples' centro storico (historic centre) is a UNESCO World Heritage Site, and its cache of archaeological treasures are among the most important globally. The city's collection of palaces, castles and churches almost puts Rome to shame. The Duomo di San Gennaro cathedral is filled with sublime frescoes, while the lavish Royal Palace and Castel Nuovo ensure a spot for Italy's third largest city on any must-see list.
The bustling maze of shops, boutiques and open-air cafés are a constant distraction, and the local cuisine – derived from rich volcanic soils, an abundant sea, and years of cooking excellence – makes Naples one of the true Italian heavyweights.
Destination Highlights
Pompeii & Mount Vesuvius
Pompeii is a vast archaeological site in southern Italy's Campania region, near
the coast of the Bay of Naples. Once a thriving and sophisticated Roman city, Pompeii was buried under metres of ash and pumice after the catastrophic eruption of Mount Vesuvius in 79 AD. The preserved site features excavated ruins of streets and houses that visitors can explore. Much like Pompeii, Herculaneum was destroyed in the volcanic eruption of 79 AD. and while it is not as well known, many claim it is actually a better sight to behold than Pompeii
Pizza
It is claimed that pizza was invented in Naples. Antica Pizzeria Port'Alba is widely believed to be the world's first pizzeria, in 1830, and is still open today.
Centro Storico
The historic centre of Naples is a UNESCO World Heritage Site and
represents the history of Naples dating back to 470 BC. This is the oldest district in Naples and combines Greek and Roman architecture, with many landmarks and monuments. When taking a stroll through the Centro Storico, you can see the locals, who live in very small houses, bringing their furniture out into the street and sitting playing cards – a true representation of Napoli life.
Napoli Sotterranea
A series of underground caves underneath the city, which have preserved Naples' history through time. This includes an aqueduct built by the Greeks and later adapted by the Romans, WW2 air raid shelters, underground Greek tombs, Roman catacombs, and the remains of a Roman theatre