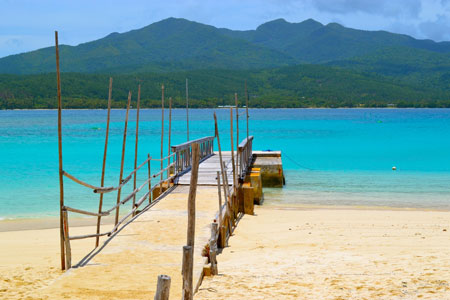 Barely a kilometre long, only 200 metres wide, and sitting within the Vanuatu archipelago of over 80 Islands, Mystery Island is a untouched tropical paradise in the South Pacific. A naturally-crafted marine sanctuary, the island is surrounded by deep blue, calm seas and coral reefs alive with colourful flora and tropical fish. Throw golden, palm-lined beaches into the mix too, and this is a wondrous place to experience. [ReadMoreMob]
Formerly used by the Allied forces as a landing strip during World War II, the island still receives a few commercial flights too. However, no one actually lives on this fascinating deserted land, due in part to the belief that it is haunted by ghosts after dark.
Top Experiences
Mystery Island's Marine Life
The waters surrounding Inyeug and the coral which abounds there are in a nearly pristine state, hosting a stunning array of life including parrot fish, moon wrasse and Christmas tree worms.
Cruises to Mystery Island