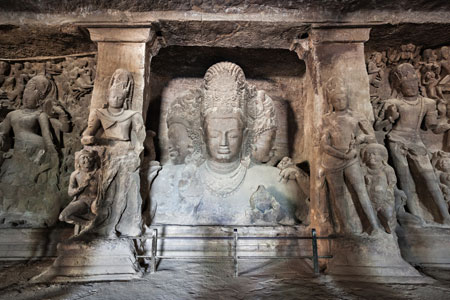 Once a cluster of seven islands covered with coconut palms, Mumbai, formerly Bombay, is a sprawling, vibrant city on India's west coast. It is a busy, densely-populated city, home to India's most prolific film industry, Bollywood, and the largest tropical forest in an urban zone.
Mumbai can prove to be a surprising introduction to India.[ReadMoreMob] On its harbour waterfront stands the iconic Gateway of India stone arch; through it is India's centre for finance and fashion, and a fervent religious crossroads. As such the city's furious energy – and often heavy air pollution – can make it a totally different experience for visitors.
But once in Mumbai's heart, some of the most imposing colonial-era architecture on earth is on view, as are its secret bazaars, hidden temples, and India's top restaurants and intense nightlife. [ReadMore]
The cultural mix is extraordinary: religious sites like the Jain Temple and the closely guarded Parsi Towers of Silence all exist happily next to the Victoria Railway Terminus, the Royal Bombay Yacht Club and the Ghandi Memorial Museum. The unique and popular bazaars offer souvenir trinkets, traditional shawls and shoes all ready to be bartered over.
Venturing beyond Mumbai, the elusive and lesser known Elephanta Caves are captivating. Set in attractive surroundings of lush green vegetation, vines and towering trees, Elephanta Island offers a stark contrast from the bustling inner city of Mumbai. The eerie Buddhist and Hindu caves, and their honeycomb of halls, shrines and pillars, are a must-see.
Top Experiences
British Heritage
Much of Mumbai's rich architectural heritage hails from the time of the British Raj. Highlights include the Chhatrapati Shivaji Maharaj Terminus and the magnificent Gateway of India, built to commemorate King George V's visit in 1911.
Dabbawalas
An integral part of life in Mumbai, the dabbawalas operate a stunningly accurate lunchbox delivery system, shifting hundreds of thousands of meals to locations across the city every day. On Tour ME, you can join in with part of this iconic service.
Dhobi Ghat
At Mumbai's Dhobi Ghat laundry, the dhobis (washers) work out in the open at rows of concrete wash pens, serving tens of thousands of clients around the city. The best view is from a bridge close to Mahalaxmi train station.