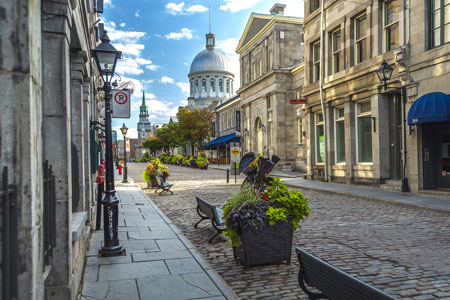 Montréal is the largest city in Canada's Québec province. Set on an island in the Saint Lawrence River and named after Mt. Royal, the triple-peaked hill at its heart, this city is in love with good food, the arts, great festivals and living life to the full.
Montreal is a true mix of cultures, with Gallic tradition and joie de vivre rubbing up against North American innovation and optimism. Its boroughs, many of which were once independent cities, include neighbourhoods ranging from cobblestoned, French colonial Vieux-Montréal – with the Gothic Revival Notre-Dame Basilica at its centre – to bohemian Plateau.
In 2006, UNESCO awarded Montreal 'City of Design' status, celebrating the city's architecture, culture and economical importance as the centre of many industries. A cosmopolitan city, bilingual Montreal is the result of the juxtaposition of French and British influences, which gives rise to its exuberant creativity.
A tour of the city reveals the beautiful botanical gardens, the atmosphere of the Olympic stadium and the breath-taking views of the Laurentians Mountains. With some 50 National Historic Sites in Montreal alone, time should be taken to fully appreciate everything this predominantly French-speaking city has to offer.