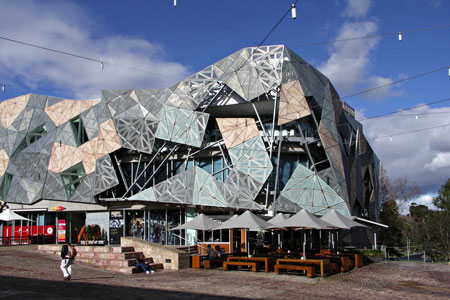 Melbourne is the coastal capital of the southeastern Australian state of Victoria. The city's elegant tree-lined boulevards, extensive parks and gardens, colourful trams, rich cultural programmes and art-deco high-rises set the scene in this classy, vibrant community.
Stylish, art-loving Melbourne is wonderfully cosmopolitan, and is proud to be recognised as Australia's sporting and cultural capital.[ReadMoreMob] In the Southbank area, the Melbourne Arts Precinct is home to Arts Centre Melbourne – a performing arts complex, while the National Gallery of Victoria has stunning Australian and indigenous art. Melbourne's liberal, bohemian and progressive personality means it was 'hipster' long before the word became a ubiquitous label.
The city centre is defined by the modern Federation Square development, with smart plazas and chic bars and restaurants all well-situated by the Yarra River. The breadth of shops and markets, not to mention the huge variety of cuisine available – Greek, Italian, Maltese, Thai, Vietnamese and more – is a mouth-watering prospect for any visitor.
The inner city is probably the most European of any in Australia: the leafy Collins Street was coined as the 'Paris End' in the 1950s. The city's well-ordered grid also adds a flavour of New York in this extraordinary destination. The Royal Botanical Gardens and Melbourne Zoo are two other attractions that are worthy of discovery.
Top Experiences
Great Ocean Road
The Great Ocean Road is one of the world's most scenic coastal touring routes, spanning 243 kilometres of coastline. It offers breathtaking panoramic views as it winds along clifftops, across spectacular headlands and through a magical mix of beaches, river estuaries and rainforests. Highlights include the Twelve Apostles and Loch Ard Gorge.
Yarra Valley
Yarra Valley is the birthplace of Victorian winemaking and a region passionate about cuisine too. Numerous villages are surrounded by rolling hills and lush pastures, all set against a backdrop of blue mountains.
Phillip Island
Wildlife abounds on Phillip Island, less than a two-hour drive from Melbourne. Line the observation boardwalks at Phillip Island Nature Park at dusk to see the daily parade of little penguins as they race up Summerland Beach to their burrows. Over 4,000 of the 32,000 little penguins living in the waters around Phillip Island have their burrows around Summerland Beach.