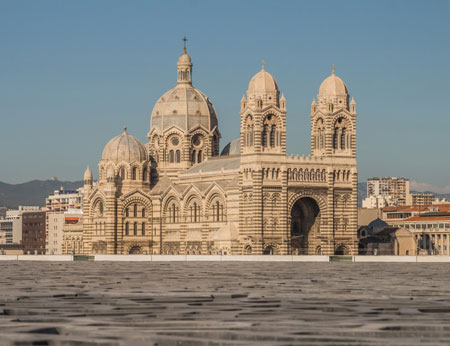 Marseille is France's second largest city and a leading commercial port on the Mediterranean. Often perceived as an edgy city, Marseille is a dynamic, bustling, multicultural crossroads that's rich with more than 1500 years of history.
The city's new sense of optimism culminated in Marseille being the European Capital of Culture in 2013. At its heart is the Vieux-Port (Old Port), where fishmongers sell their catch along the boat-lined quay. Other sites worth discovering include the basilica Notre-Dame-de-la-Garde, a 19th century, Romanesque-Byzantine church, the Palaise de Longchamp, the Cathedral of the Major, and the archeological ruins of Roman road & Greek walls in the Jardin de Vestiges.
Cosmopolitan Marseille offers exciting nightclubs, fabulous restaurants, a variety of theatres, an international football stadium, and a crop of swanky new museums. Its pedestrianised zones and shopping areas, such as the colourful French-African quarter, blend seamlessly with historical sites. The OK Corral, a cowboy theme amusement park, offers a fun distraction.
Destination Highlights
Lavender in Provence
These incredible fields of lavender are in bloom from June to August and are a must-see if you're visiting the Provence region in the summer. Marseille is our starting point for tours to the lavender fields.
Marseille Soap 'Savon de Marseille'
Provence was the first soap-producing region in the Middle Ages and in the 17th century, Marseille became the premier production site. Marseille's abundance of natural materials
such as olive oil make it perfect for the production of soap. Although soap production in Marseille has declined since the two world wars, you can still buy Marseille soap today.
Marseille soap is usually green as it's generally made from 72% olive oil (and should be stamped as such).
Stade Velodrome
Now known as Stade Orange, this stadium was home to the 1998 World Cup and several Euro 2016 matches. Renovated in the last few years, the stadium is architecturally impressive and is being expanded again, with a mall being put in.