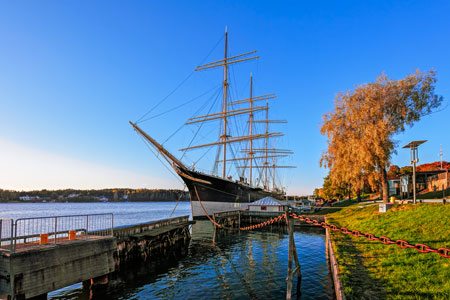 The port of Mariehamn is situated in the heart of the Baltic Sea, halfway between Finland and Sweden. It is the capital of the Åland Islands, a breath-taking amalgam of nearly 7000 islands which boasts a unique archipelago culture, maritime heritage and natural beauty.
Åland is an autonomous Swedish-speaking, demilitarized region. Its capital was founded in 1861 by Tzar Alexander II at a time when Åland and Finland were a part of the Russian Empire. Mariehamn is named after Tzar Alexander's wife, Maria Alexandrovna.
Also known as The Town of a Thousand Linden Trees, Mariehamn is a small town with a big personality. The small, easily navigable town centre provides a rich variety of shopping experiences, restaurants and cultural landmarks. These days, music festivals and cultural fairs pack the city calendar, and folks stay out all night soaking up the midnight sun.