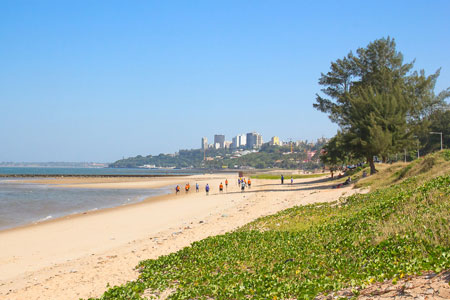 Maputo, capital of Mozambique, is an Indian Ocean port with a rich Portuguese heritage and colonial architecture to match. Its smart waterside setting and wide avenues lined with jacaranda and flame trees, makes Maputo one of Africa's most attractive capitals.
Many turn-of-the-century buildings are in the downtown Baixa neighbourhood. The beautiful architecture mixes up charming villas with an impressive modern skyline. Landmarks include the imposing bronze-domed CFM Railway Station, completed in 1916, which is well worth visiting, as is the expansive and colourful Municipal Market. This is a great spot to sample a taste of local life, and maybe a cashew nut or two, which are all over Maputo in every imaginable form.
This beachfront city has an upbeat African vibe, with a wide selection of cool hotels and restaurants, well-stocked supermarkets, shady cafes and a lively cultural scene and nightlife.
Destination Highlights
Maputo Train Station
Maputo's landmark train station is one of the city's most imposing buildings. An associate of Alexandre Gustav Eiffel designed the remarkable bronze dome, even though Eiffel himself never set foot in Mozambique.
Maputo History
Built in a stately Manueline architecture style, the Natural History Museum is well worth a look for anyone visiting Maputo. Once inside you will find interactive terminals, an ethnography exhibit and a fascinating display of the world's only collection of elephant foetuses.