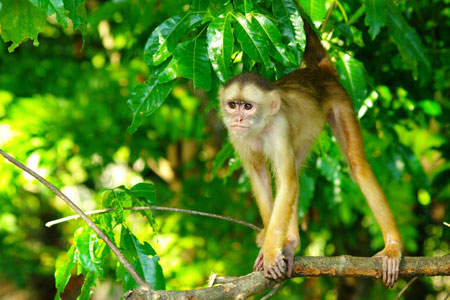 Manaus, or Paris of the Jungle, on the banks of the Rio Negro in north-western Brazil, is the capital of the vast state of Amazonas. The city is a key gateway for the surrounding Amazon Rainforest. Just east of the city, the dark Rio Negro converges with the brown, muddy waters of another Amazon tributary, the Solimões River. The convergence results in a striking visual phenomenon called the Meeting of the Waters.
This rugged, bustling metropolis does have a few rewarding sights, including the leafy City Zoo that has as many animals out of cages as in them. The unique Museu do Seringal Vila Paraíso is located in a former rubber-baron's estate and features a grand historic townhouse and a leafy trail that reveals how rubber trees are tapped.
A stop at Praia da Lua, Manaus' best beach, is worthwhile. Alternatively, watching riverboats journey through the myriad of tributaries, or spotting local wildlife, are equally enjoyable.