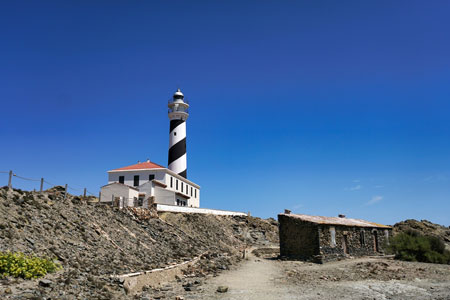 Mahon is the capital of the Spanish island of Menorca. The city, situated on the east coast of the island, has a population of 31,000 and is most famous for its natural deep-water harbour, which stretches five kilometres inland and is one of the largest in the world. Mahon is easy to explore by foot. As you wander the streets, you'll discover traces of the various civilisations that have passed through the town.
Santa María Church, with its ornate 19th century organ, is worth discovery on central Plaça de la Constitució, and City Hall has a Renaissance facade and a clock donated by the island's first British governor. The Menorca Museum displays art and exhibits on the island's history.

From Mahón the true beauty of Menorca – its sleepy fishing villages, stunning beaches and Monte Toro, the island's highest peak – is all waiting to be uncovered.
Destination Highlights
Biosphere Reserve
Declared a Biosphere Reserve by UNESCO in 1993. The main characteristic of the Menorca Biosphere Reserve is the diversity characteristic of nearly all Mediterranean island ecosystems. The most notable habitats are the gullies, caves, wetlands made up of ponds, lagoons and marshes, dune systems, coasts and islets. Some 220 species of birds and 1000 species of plants (60 of which are endemic) have been recorded.
Menorquin Horse
The Menorquin Horse or Cavall Menorquí is a breed of horse indigenous to the island of Menorca in the Balearic Islands, from which it takes its name. Jaleo, now also used to the name this celebration, is how this 100-year-old way of making Menorca horses dance to the music played by an orchestra has always been known. The dance lasts a couple of hours and all along the music is the same. The horses, especially decorated for the occasion – like the horsemen, parade (one by one or in small groups) through the Plaza Mayor, the main square of the village.
Mayonnaise
Mayonnaise was actually first created in the Menorcan town of Mahon (pronounced may-on) in the mid 1700's during the French occupation. As a result, Menorcans are still fairly purist about their mayonnaise ingredients: olive oil, garlic and eggs.