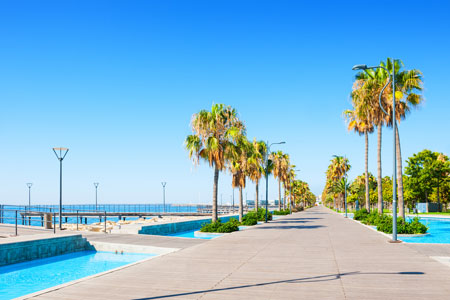 A holiday resort with an excellent family reputation, Limassol has some great beaches and lots of tavernas, cafés and restaurants. But there's plenty else to see and do here. Limassol Castle was built in 1228 by Frederick II of Germany, but largely rebuilt by the Ottoman rulers during the 19th century. It now houses the Cyprus Medieval Museum. The Limassol Archaeological Museum has many fascinating objects from the island's history, especially from the Ottoman period.
Further afield, the Amathus site, about 11km east of the city, has the ruins of a Temple of Aphrodite and tombs from the early Iron Age era.[ReadMoreMob] In the other direction is the village of Kolossi; the splendid castle overlooks vineyards where the Cypriot Commandaria wine is produced.
Top Experiences
Birthplace of Aphrodite
Cyprus is the mythical birthplace of the Greek goddess of love. The moving scenery and evocative history of this island make for a fitting origin story.
Ancient archaeology
Settlements on Cyprus dates back nearly 10,000 years and the island flourished even before the Classics. The Tomb of The Kings and Choiokoitia Neolithic settlement are highlights of this heritage.
World's oldest wine
Around 1192, the Knights of St, John had perfected the production of their wine to the point where it deserved a label. This label was to be the first in the history of viticulture: ommandaria.