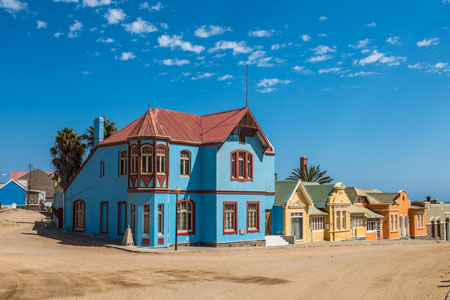 The coastal town of Lüderitz in south-western Namibia has a deep, colonial German heritage, exhibited by the colourful, traditional buildings that still stand proudly in the town today.
Nestled between the dusty Namib wilderness and the South Atlantic Coast, Luderitz is a picturesque town surrounded by azure waters filled with seals, penguins and dolphins.[ReadMoreMob] Its colonial buildings include the Art Nouveau Goerke Haus, which was built into the rock face on Diamond Hill, and the nearby hilltop church, Felsenkirche, offers panoramic views of the bay stretching around to Robert Harbour.
The Lüderitz Museum has exhibits on the town's diamond-mining past as well as local and natural history. A visit to the ghost-town of Kolmanskop is a photographer's dream, while local rock lobster served in the town's restaurants is a culinary delight to savour.
Top Experiences
Kolmanskop Ghost Town
One of the most famous ghost towns in the world, the former mining town of Kolmanskop flourished and was abandoned in the space of just 40 years after diamond prices crashed following WWI. Today the site is engulfed by sand dunes, adding to its mystique.
German Architecture
Bremen merchant Adolf Lüderitz purchased a huge packet of land here, exploiting definitions of a mile to con the owners out of fair payment. Colonialism ended after WWI. Some fine examples of German architecture are Goerke House and along Bergstrasse.