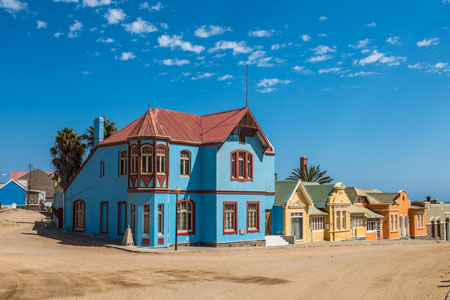 The coastal town of Lüderitz in south-western Namibia has a deep, colonial German heritage, exhibited by the colourful, traditional buildings that still stand proudly in the town today.
Nestled between the dusty Namib wilderness and the South Atlantic Coast, Luderitz is a picturesque town surrounded by azure waters filled with seals, penguins and dolphins.[ReadMoreMob] Its colonial buildings include the Art Nouveau Goerke Haus, which was built into the rock face on Diamond Hill, and the nearby hilltop church, Felsenkirche, offers panoramic views of the bay stretching around to Robert Harbour.
The Lüderitz Museum has exhibits on the town's diamond-mining past as well as local and natural history. A visit to the ghost-town of Kolmanskop is a photographer's dream, while local rock lobster served in the town's restaurants is a culinary delight to savour.
Top Experiences
Kolmanskop Ghost Town
Kolmanskop, situated in the forbidden territory a few kilometres inland from Lüderitz, is Namibia's most famous ghost town.
Once diamonds were discovered here, the town quickly became a prosperous diamond mining community. Large elegant houses were built and the town soon resembled a German settlement, complete with an array of amenities including a hospital, power station, casino and the first x-ray station in the southern hemisphere.
The town declined after World War I when diamond prices crashed. When richer diamond deposits were found further south, the town's inhabitants left, and today Kolmanskop has been encroached by sand dunes.
German Colonial Rule
The town of Lüderitz was founded in 1883 when Heinrich Vogelsang purchased Angra Pequena and some of the surrounding land on behalf of Adolf Lüderitz. When Adolf Lüderitz did not return from an expedition to the Orange River in South Africa in 1886, Angra Pequena was re-named Lüderitzbucht in his honour.