Kralendijk, Bonaire Cruises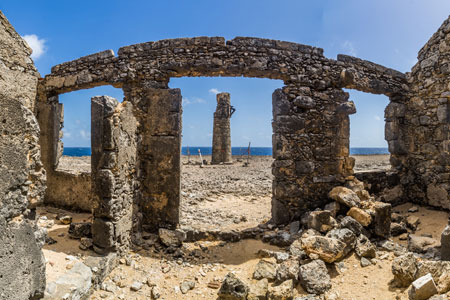 Kralendijk, the lively, Dutch-controlled capital of Bonaire, is renowned for its stunning natural beauty and fantastic Caribbean climate. This colourful town is characterised by its many beaches dotted with quaint stucco houses in pastel shades of pink, green and blue.

Surrounded by the protected Marine Park, the island's waters are home to large numbers of tropical fauna, rare seabirds and sea life, including turtles, tuna, Blue Marlin and sailfish. Washington Slagbaai National Park is a great place to spot flamingos, iguanas and giant cacti, while sun-worshippers intent on pure relaxation can enjoy the gorgeous white-sand beach on the nearby uninhabited island of Klein Bonaire.

In Kralendijk itself, interesting shops sell jewellery, wood and leather products hand-crafted by the locals. There are plenty of restaurants selling an enticing mixture of cuisine, from Creole dishes, such as grilled spicy fish, goat stew and cactus soup to local versions of Dutch foods, such as smoked meat and excellent cheese. The locally brewed beer is also worth trying, as is the creamy hot chocolate.
Destination Highlights
Klein Bonaire
Klein Bonaire ('Little Bonaire') is a small, flat, uninhabited island located off the west coast of Bonaire. The island, which is managed by Bonaire National Marine Park, boasts a sandy beach and excellent snorkelling opportunities. The waters are home to a diverse range of marine life including angelfish, parrotfish and sea turtles.
Mangrove Eco Centre
Bonaire's Mangrove Reserve is located at Lac Bay and is part of the Marine Park. This area is unique to the Caribbean and the reserve is one of the best preserved in the region. Visitors can only enter the mangroves with an experienced nature guide, and
during a visit here it is possible to spot wildlife and sea creatures that call the area home.
Kralendijk
Huge mounds of crystals can be seen in the south of Bonaire. Each pyramid, roughly 50 feet high, contains approximately 10,000 metric tons of 99.6% pure salt. Depending on the time of the year, there can be upwards of 200,000 metric tons of salt neatly stacked in long rows and awaiting shipment. The solar salt facility, one of the largest in the Caribbean, is today owned by Cargill, a private company based in Minneapolis, Minnesota. The facility covers approximately 13 percent of the island, equating
to around 16 square miles of land. Nestled within the company land is the Flamingo Reserve. Flamingos, protected by law, can be seen from the road.
Washington Slagbaai National Park
Washington Slagbaai National Park is a 5,643-hectare nature sanctuary located in the northwest of the island. It was the first nature sanctuary of the Netherlands Antilles, established in1969. It is a safe habitat for the terrestrial endemic and endangered species of Bonaire. Parrots, flamingos, parakeets, iguanas and many other species of bird and reptile can be found within this protected area. The beaches inside the park are an important nesting ground for all four species of sea turtle found in the Caribbean.