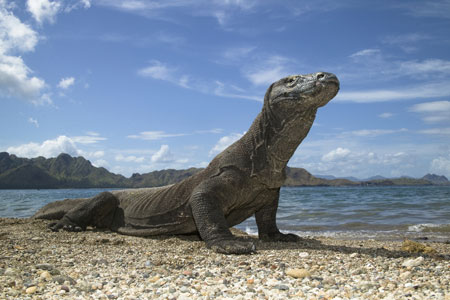 The Indonesian island of Komodo, is a combination of rusty-red volcanic hills, savannah and forests, and is the rugged habitat of the 3m-long Komodo dragon monitor lizard.
Komodo National Park covers this entire region and is home to more than 4,000 dragons.[ReadMoreMob] The surrounding seas have extensive coral reefs, mangrove swamps and sea-grass beds, and are occupied by a variety of sharks, dolphins, manta rays, sea turtles and whales. The park was established to protect the unique Komodo Dragon and the local ecosystem. Visits to the island are strictly controlled and only a limited number of organised tours can gain access.
Top Experiences
Komodo National Park
Komodo National Park, which spreads over the larger islands of Rinca, Padar and Komodo, and other small, volcanic Indonesian islands, is home to the Komodo dragon, the world's largest living lizard. Measuring at least three metres (over nine feet) in length and weighing over 70 kilograms (154 pounds), the 'king of the lizards' was first documented by western scientists in 1910 following reports of sightings of a land crocodile. The Komodo dragon is dinosaur-like in appearance, with rugged, armoured scales, a long, forked tongue and up to 60 serrated teeth.
Pink Beach
One of the most visited and beautiful beaches in Komodo, the Pink Beach, as the name suggests, is renowned for its beautiful pink sand, tinted by fragments of red coral mixed in with shell and other coral fragments. The beach is a popular spot for swimming, snorkelling or simply for relaxing and soaking up the beautiful surroundings.