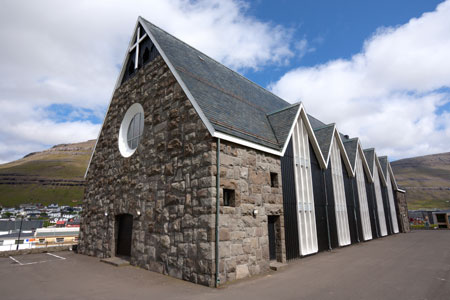 Located on the island of Borðoy, Klaksvik is the Faroe Island's second largest town and, thanks to the backdrop of rolling hills, craggy cliffs and a gorgeous bay, one of its most beautiful. This unique town of pretty buildings – including the charming Christianskirkjan Church, traditional farms and busy port – is considered the cultural and commercial hub of the Faroes. The town's roundabout with a sculpture of a fish hook several meters high emphasises Klaksvik's importance as a fishing port.

Úti í Grøv, an idyllic spot across the bay, has Viking-era remains and has provided inspiration to many poets and artists over the years. Its trickling streams and fragrant flora ensure it's the perfect place to admire Klaksvik's incredible surroundings on a relaxing stroll.

The formerly isolated island of Borðoy is now connected to the mainland by the impressive 6300m long Norðoyatunnilin Tunnel. It now links Klaksvik to Leirvík, a town on the rugged, mountainous island of Eysturoy, which has been identified by Birdlife International as an "Important Bird Area". The bus ride there to spot Manx Shearwaters, Black Guillemots and other native seabirds in their natural habitat is definitely worth the effort.
Cruises to Klaksvík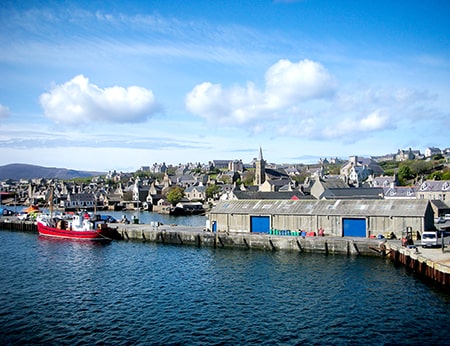 Departs: Dover • Sat 17 Apr 2021
7 nights • Bolette • T2108
Week-long springtime escapes don't get much better than this – enjoy ample time to experience the delights of ocean cruising, and revel in the beauty, tranquillity and charms of scenic islands.
Sail to the enchanting Faroe Islands, to marvel at the spectacular scenery of Cape Enniberg, Streymoy, Gásadalur and Hestur Islands, and delve into the archipelago's Viking history too.
Closer to home, glorious Scottish isles await; there are breathtaking coastal scenes, natural wildlife reserves and ancient treasure aplenty to discover in the Shetlands and Orkneys.
From £899pp
Fares Explained
|
What's Included