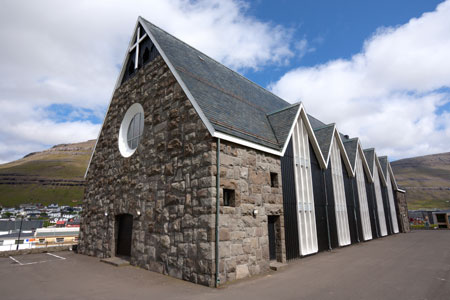 Located on the island of Borðoy, Klaksvik is the Faroe Island's second largest town and, thanks to the backdrop of rolling hills, craggy cliffs and a gorgeous bay, one of its most beautiful. This unique town of pretty buildings – including the charming Christianskirkjan Church, traditional farms and busy port – is considered the cultural and commercial hub of the Faroes. The town's roundabout with a sculpture of a fish hook several meters high emphasises Klaksvik's importance as a fishing port.

Úti í Grøv, an idyllic spot across the bay, has Viking-era remains and has provided inspiration to many poets and artists over the years. Its trickling streams and fragrant flora ensure it's the perfect place to admire Klaksvik's incredible surroundings on a relaxing stroll.

The formerly isolated island of Borðoy is now connected to the mainland by the impressive 6300m long Norðoyatunnilin Tunnel. It now links Klaksvik to Leirvík, a town on the rugged, mountainous island of Eysturoy, which has been identified by Birdlife International as an "Important Bird Area". The bus ride there to spot Manx Shearwaters, Black Guillemots and other native seabirds in their natural habitat is definitely worth the effort.
Destination Highlights
Christianskirkjan Church
The Christianskirkjan Church, Located in the centre of Klaksvík, was given its name after its patron – the late Danish King Christian X. The church is in honour of the sailors who lost their lives during World War II. It was the first church to be built in Scandinavia in Old Norse style, with the roof construction similar to that of Viking halls. It even includes a boat built in the style of an old Viking long ship.
Landscape
Situated in the North Atlantic, the Faroe Islands are a picturesque patchwork of green meadows dotted with sheep, deserted moorland and brightly-coloured buildings.
Villages are spread along the quiet roads, and large towns are few. With the sea never more than three miles away, the coastline is a feature of the islands – with deep fjords, steep cliffs and dramatic headlands. Birdlife is plentiful, especially during the summer season.