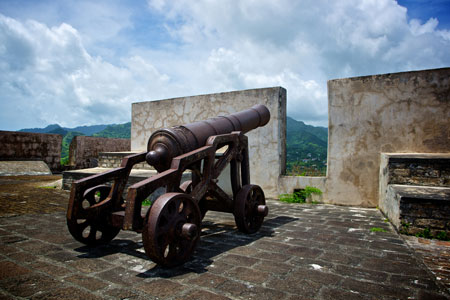 Kingstown, the capital of Saint Vincent and the Grenadines, is famed for its lush Botanical Gardens and aviaries, and is affectionately known by locals as the City of Arches given its intertwining cobbled streets that lead to magnificent churches and historic buildings.

Above the stunning bay, the 1806 Fort Charlotte offers panoramic views of the Windward Islands archipelago. The city centre's fine 19th century architecture includes St. Mary's Cathedral, while the wharf area is a hub of activity, and home to the local fish market. The town's waterfront has dramatic black sand beaches including the popular Villa Beach.

St. Vincent is an idyllic, unspoilt haven just waiting to be explored. Away from Kingstown, there is an abundance of untouched rainforest, beautiful reefs and crashing waterfalls to explore. Deserted beaches go on for miles, interrupted only by the odd quaint town or dormant volcano.
Destination Highlights
Botanical Gardens, Kingstown
On the outskirts of Kingstown you will find the Botanical Gardens, a peaceful haven of vibrant colour and lush greenery. The gardens were created in 1765, making them one of the oldest in the Western Hemisphere, and are home to palms, lilies, hibiscus and tropical trees, including the breadfruit tree.
Mustique, Kingstown
Mustique is a small, privately-owned island, which has long been a firm favourite amongst celebrities and royalty, thanks to its perfect blend of simplicity, comfort and sophistication. The history of the island, along with the other islands of the Grenadines, dates back to the 15th century, when they were first sighted by Spanish sailors, who named them 'Los Pajoros', or 'the birds', due to their resemblance of a flock of birds in flight.
Fort Charlotte, Kingstown
The historic Fort Charlotte is located to the west of Kingstown, perched 182 metres (600 feet) above sea level. Completed in 1806, this former Garrison was named in honour of Queen Charlotte, the wife of King George III, who was the reigning monarch of England at that time.