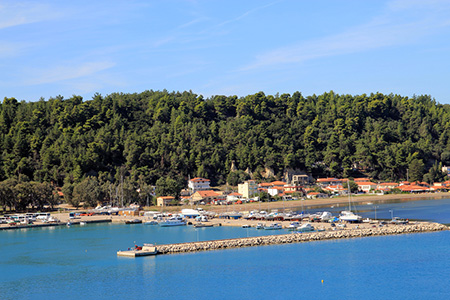 Katakolon is the small, sleepy port town located on the western coast of the Peloponnese peninsula, which has undergone an extensive and very pleasing makeover over the last decade.
Situated on a headland overlooking the Ionian Sea, the Greek seaside town is the gateway to the UNESCO-listed World Heritage site of Ancient Olympia.[ReadMoreMob] Founded in the 8th century BC, Olympia hosted the original Olympic Games and its extensive, must-see ruins include athletic training areas, a stadium and temples dedicated to the gods Hera and Zeus.
The town of Kataolon itself offers the fascinating lighthouse built in 1865, the intriguing Museum of Ancient Greek Technology, and the sunken, ancient city of Pheia, which is within walking distance of the port. The Worldwide Mythology Exhibition Park was established in 2017 in Katakolo Square, where mythical monsters Minotaurs and Centaurs can be found in a labyrinth.
Top Experiences
Ancient Olympia and the Olympic Games
The original Olympic Games were first held in Olympia in 776BCE, starting a tradition which would endure until 393CE and ultimately be reborn. Aside from the stadium itself, the sanctuary of Zeus nearby represents the largest temple in the Peoloponnese.
Cruises to Katakolon
Departs: Dover • Tue 01 Sep 2020
28 nights • Boudicca • D2023
Visiting five stunning cities in five different countries, you have a chance to delve deep into the remarkable ancient history, authentic flavours and breathtaking beauty of the Black Sea.
Step back to the days of Ottoman rule in Istanbul, home to famous landmarks such as Topkapi Palace and the Blue Mosque; and take the chance to visit wine valleys and tea plantations in Russia and Georgia.
You can explore Odessa's labyrinth-like Catacombs, and the Danube Delta – on boat tour from Constanta – too. What's more, Boudicca will also help you to experience the best of the beautiful Mediterranean.
From £4,499pp
Fares Explained
|
What's Included
Departs: Southampton • Fri 16 Apr 2021
25 nights • Braemar • M2109
An outstanding voyage specially crafted to show you some of Greece's most unique and authentic sights and experiences, this cruise is packed with the diverse highlights of an array of stunning destinations.
The archaeological wonders of ancient towns, cultural and historical gems, beautiful beaches, postcard-perfect scenery and much more – your smaller-sized ship will bring you closer to it all with visits to gorgeous islands such as Crete, Rhodes and Kefallonia.
The pièce de résistance is a simply unforgettable scenic cruise of the narrow Corinth Canal aboard Braemar, the longest ship to pass between this incredible waterway's imposing, carefully carved cliffs.
From £4,499pp
Fares Explained
|
What's Included