Seen as the place where East meets West, Istanbul has a cultural diversity that's lasted for centuries, stemming from the multitude of rulers it's had in history.
Among Istanbul's great wealth of monuments and landmarks are the ethereal Blue Mosque,[ReadMoreMob] glittering Topkapi Palace (once home of the sultans) vast Kapali Carsi (the world's largest covered bazaar) and the aromatic Egyptian Spice Market. Food is an important part of Istanbul's culture and particular highlights include çay bahçesis (tea gardens) kahvehans (coffeehouses) meyhanes (Turkish taverns) and kebapçıs (kebab restaurants) which the locals will welcome you into readily.
Cruises to Istanbul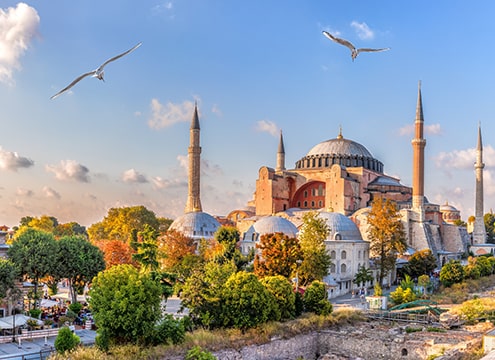 Departs: Dover • Tue 27 Sep 2022
28 nights • Balmoral • L2222
Visiting five stunning cities in five different countries, be immersed in the remarkable ancient history, authentic flavours and breathtaking beauty of the Black Sea.
Step back to the days of Ottoman rule in unmistakable Istanbul; and take the chance to visit wine valleys and tea plantations in Russia and Georgia.
You can explore Odessa's labyrinth-like Catacombs, and the Danube Delta – on boat tour from Constanta – too, while you'll also experience the best of the beautiful Mediterranean.
From £4,299pp
Fares Explained
|
What's Included