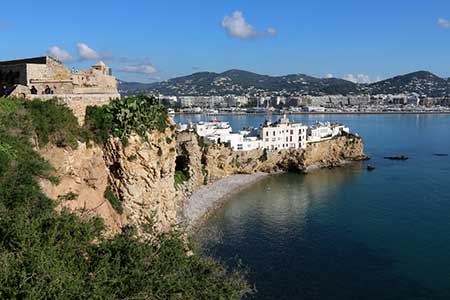 The Balearic Island of Ibiza may have a reputation for lively Mediterranean nightlife, but there is more to this sun-kissed, pine-clad island than meets the eye. Off Ibiza's beaten track you'll find quiet villages, rural hotels, hidden hamlets, yoga retreats hushed churches, and glorious beaches – from Platja d'en Bossa, lined with hotels, bars and shops, to quieter sandy coves backed by evergreen hills.
The island's capital, Ibiza Town – Eivissa in Catalan – has a superb Old Town. The 16th century walls and ramparts of Dalt Vila, now a UNESCO-listed World Heritage site, surround tight and intriguing cobbled streets.[ReadMoreMob] The main entrance, Portal de Tablas, passes into a courtyard leading to the main square, which is home to wonderfully-peaceful restaurants, tiny boutiques and family-owned cafés and bars.
Top Experiences
Ibiza Old Town (Dalt Vila)
The fortified acropolis of Dalt Vila remains one of the most picturesque old towns in Spain, packed with exceptionally well-preserved remnants of the Catalans, Arabs and Phoenicians and of the Renaissance.
Cruises to Ibiza
Departs: Southampton • Sun 11 Oct 2020
15 nights • Braemar • M2027
As the autumn takes hold back home, you'll swap the seasonal gloom for October warmth and get closer to the highlights of sun-dappled islands and historic cities in the western Mediterranean.
On Spain's Mediterranean coast, you can immerse yourself in Cartagena's rich Roman history; and revel in the vibrant atmosphere and stunning architecture – including the iconic Sagrada Familia – of Barcelona.
Ibiza and Menorca offer inviting beaches, unspoilt scenery and historical sites, while Marseille – with its trendy boutiques, galleries and architectural gems – adds a French flavour to your adventure.
From £1,999pp
Fares Explained
|
What's Included
Departs: Southampton • Fri 16 Apr 2021
25 nights • Braemar • M2109
An outstanding voyage specially crafted to show you some of Greece's most unique and authentic sights and experiences, this cruise is packed with the diverse highlights of an array of stunning destinations.
The archaeological wonders of ancient towns, cultural and historical gems, beautiful beaches, postcard-perfect scenery and much more – your smaller-sized ship will bring you closer to it all with visits to gorgeous islands such as Crete, Rhodes and Kefallonia.
The pièce de résistance is a simply unforgettable scenic cruise of the narrow Corinth Canal aboard Braemar, the longest ship to pass between this incredible waterway's imposing, carefully carved cliffs.
From £4,599pp
Fares Explained
|
What's Included
Departs: Southampton • Fri 23 Sep 2022
25 nights • Braemar • M22CC
Make unforgettable memories on a seemingly impossible navigation through the narrowing cliffs of Greece's remarkable Corinth Canal, made possible thanks to record-breaking Braemar's smaller size.
Uncover the captivating sights and sites of Greek islands, including the ancient wonders, beautiful beaches and palm-lined promenades of Crete, Rhodes, sleepy Syros and Kefallonia too.
Immerse yourself in the Mediterranean magic of stunning islands and cities in Spain, Italy, Malta and Portugal, and revel in the spectacular sight of the mighty Stromboli Volcano.
From £4,399pp
Fares Explained
|
What's Included