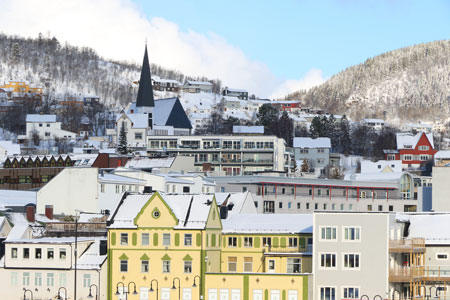 The port of Harstad is situated on Norways largest coastal island, Hinnøya. The diverse region around Harstad offers stunning coastal mountains, sublime fjords, and the northernmost strawberry farming on the planet. Hiking, fishing and kayaking are all popular local pastimes and the port is a great place to witness both the midnight sun and the Northern Lights.

There are historical and military secrets to be found in Hardstad.[ReadMoreMob] The 12th century Trondenes Church plus the awesome, German-built Adolfkanonen at Trondenes – one of the largest battleship cannons on land in Europe during WW2 – are both worth uncovering.

The port is also the gateway to the Lofoten and Vesterålen Islands. The 70-mile-long mountainous archipelago of the Lofoten island chain is made up of some of the world's oldest rocks. Divided by fjords created during the Ice Age, its sheer cliffs rise from the sea to over 3,000 feet in some places.
Top Experiences
Adolfkanonen
Adolfkanonen at Trondenes is one of the largest battleship cannons on land in Europe during WW2. Gun Battery was built by the German occupying forces during World War 2 and with its four cannons were battery at Trondenes the most powerful in Hitler's Atlantic Voll. Adolfkanonen is currently an open museum. In the bunkers beneath the cannons, an exhibition shows the gun's history, construction and planned use. Adolfkanonen stands today as the only restored cannon of its kind in the world.
Mount Keipen
Keipen is a relatively easy hike, which offers a magnificent view from the top. Drive to Aunfjellet (8km northwest of Harstad) and Keipen is located on the left-hand side of the road at Aunfjellet. Park in the large parking lot at the top, just after the smaller shoulder parking area. From here, a marked trail leads to the peak. Fantastic views towards the west, and an excellent place to see the midnight sun. Approx. 4 km return trip, estimated time to reach the top is about 30 minutes.
Trondenes Church
Trondenes Church is the northernmost and one of the most important medieval churches with traces back to the Viking era. After several years of restoration, the doors opened again in 1950. Upon entering the church, you'll notice the beauty of the religious artwork and the vast, high-ceilinged room. At the head of the church, there are three triptych, which represents an important part of the church's 700-800 years history.