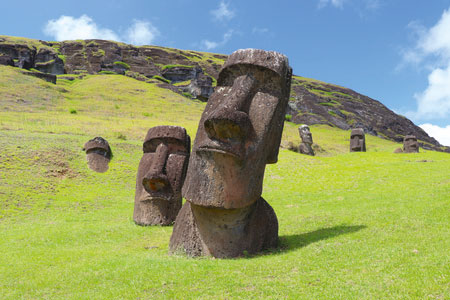 Located between the extinct volcanoes of Terevaka and Rano Kau, Hanga Roa – the capital of Easter Island – is a stunning, historic settlement.

Due to its warm, friendly atmosphere, welcoming shops and other local services, Hanga Roa is the perfect base from which to discover Easter Island's natural landscapes and archaeological sites.

The imposing monolithic Moai Statues – the island's most famous attraction – feature the 'living faces' of its chiefly ancestors carved from rock. The sight of them sat with their backs to the sea watching over the land, is a true wonder. The island's museum and Roman Catholic Church are also worth visiting.
Top Experiences
Ahu Tongariki
One of the most iconic images associated with Hanga Roa, Ahu Tongariki is the largest ahu (stone platform) on the island. Measuring approximately 220 metres (721 feet), Ahu Tongariki is located on the south coast of the island, close to Rano Raraku, which is home to the quarry where the moai statues were built.
Rano Raraku
Rano Raraku is considered one of the most important sites on Hanga Roa. This volcanic crater, located in the south east, is considered the birthplace of the moai, as it was used as a quarry to build most of the statues found on the island.
Ahu Tahai
One of the oldest ahus on the island, Ahu Tahai is believed to have been built in around 690 A.D. The complex is in fact home to three ahus – Tahai, with a large, lone moai; Ko Te Riku, featuring a statue with eyeballs and a pukao (topknot) on its head; and Vai Uri, a single ahu with five stone statues of different sizes standing in a row. The complex was restored during the 1960s and 1970s by archaeologist William Mulloy, and his tomb is located close to the site.