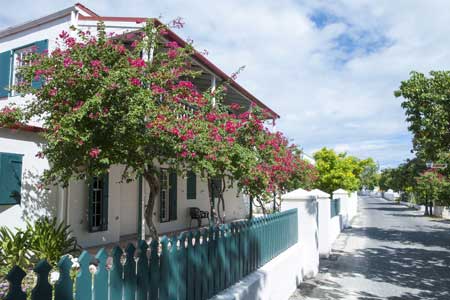 Grand Turk Island is the capital island of the Turks and Caicos archipelago, and a sun-drenched paradise. With pristine beaches and clear, turquoise sea, Grand Turk is a haven for diving, snorkelling, fishing, kayaking, boat cruises or simply relaxing in the sun. The island is dotted with the remains of salt ponds and windmills from the island's sea salt industry, active from the 17th to 20th century.

Cockburn Town, the historic centre of the island, is a sleepy place that is still home to wild horses and donkeys. Along the waterfront, the town has buildings that are two centuries old, with bleached wood and limestone facades and gardens filled with fragrant bougainvillea.

The 19th century Grand Turk Lighthouse can be found on a rocky bluff to the north, while the Turks & Caicos National Museum, housed in Guinep House, was built with timbers salvaged from ships wrecked on the coral reefs. It displays the remains of a Spanish sailing ship that sank offshore in the early 16th century. Excavated in the 1980s, the exhibits include sailing artefacts.

Grand Turk is also home to some breath-taking natural wonders, and the Columbus Landfall National Park - which stretches along the western side of the island - offers some of the island's finest beaches, largest corals and diverse fauna and flora.