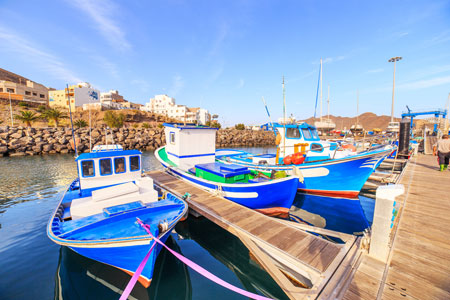 Gran Tarajal is one of the largest towns on the island of Fuerteventura and basks in the stunning climate of the Canaries.

Once renowned as a busy shipping town from where the island's tomato export was shipped, Gran Tarajal now offers an authentic taste of Canaries culture with a relaxed feel and a constant air of tranquillity.

The town's a fabulous beaches and beautiful promenade are waiting to be explored, and the handsome harbour is always busy with fishermen and offers great views of the winding hillside streets. Highlights in the town centre include the expertly crafted fountain with six seahorses spouting water within a shady oasis of tall palms. Alongside it, is the charming town church.
Top Experiences
World Biosphere Reserve
Volcanic landscapes, pristine beaches and the largest desert in Europe are among some of the natural features that have earned Fuerteventura its status as a UNESCO Biosphere Reserve. The island is also one of 50 paleontological sites of global importance.
Goat's Cheese
With more goats than people living on Fuerteventura, it'll come as no surprise that the island is renowned for its goat's cheese. Majorero cheese, in particular, is a must-try. Also known as Queso Fuerteventura, it's semi-hard with a nutty, milky flavour.
Entallada Lighthouse
Built in 1953, this unique lighthouse was the last of its kind in the Canary Islands to be constructed as a habitable dwelling. Sitting atop a 200-metre-high cliff at the end of a narrow, winding road, it's the closest point to Africa in the Canaries.