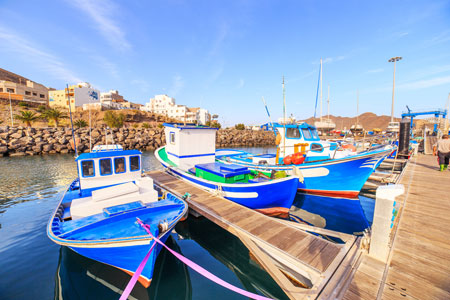 Gran Tarajal is one of the largest towns on the island of Fuerteventura and basks in the stunning climate of the Canaries.

Once renowned as a busy shipping town from where the island's tomato export was shipped, Gran Tarajal now offers an authentic taste of Canaries culture with a relaxed feel and a constant air of tranquillity.

The town's a fabulous beaches and beautiful promenade are waiting to be explored, and the handsome harbour is always busy with fishermen and offers great views of the winding hillside streets. Highlights in the town centre include the expertly crafted fountain with six seahorses spouting water within a shady oasis of tall palms. Alongside it, is the charming town church.
Top Experiences
World Biosphere Reserve
In 2009 Fuerteventura was recognised as a UNESCO Biosphere Reserve due to its volcanic landscapes and 150km of pristine beaches. The island has the largest desert in Europe, with a western coastline that stretches for over 100km and is free from human intervention. The island also has a rich collection of fossils and is among 50 paleontological sites of global importance.
Goat's Cheese
A large number of goats live on Fuerteventura, and the island is known for its goat's cheese production. Majorero Cheese, also known as Queso Fuerteventura, has Protected Designation of Origin certification. It is a semi-hard cheese with a nutty, milky flavour.
Entallada Lighthouse
El Faro La Entallada is a unique lighthouse built in 1953 – the last lighthouse in the Canaries to be built with the ability to be inhabited. An extremely winding, narrow road takes you up to the lighthouse, which is situated on a cliff 200m above the sea. It is the closest point to Africa in the whole of the Canary Islands.
Cruises to Gran Tarajal
Departs: Southampton • Wed 30 Oct 2019
13 nights • Braemar • M1927
With Braemar bringing your closer to the best of four beautiful islands, from diverse landscapes to inviting beaches, you can choose to make the most of the Canaries and Madeira's balmy autumn warmth with unforgettable explorations or hours of blissful relaxation if you wish.
Three breathtaking Canary Islands await you: Gran Tarajal, where you could while away a few hours on the warm sands of Jandia Beach; Gran Canaria, with it's year-round sunshine, rolling sand dunes and gorgeous valleys; and Tenerife, home to the Pyramids of Güímar and magnificent Mount Teide.
Funchal is your gateway to Madeira's resplendent botanical gardens, unique levada walking trails and spectacular Cabo Girão sea cliff, while you could visit Reid's Hotel for an opulent afternoon tea. If all that wasn't enough, you'll head to mainland Spain and Portugal to visit La Coruña and Lisbon, too.
From £899pp
Fares Explained
|
What's Included