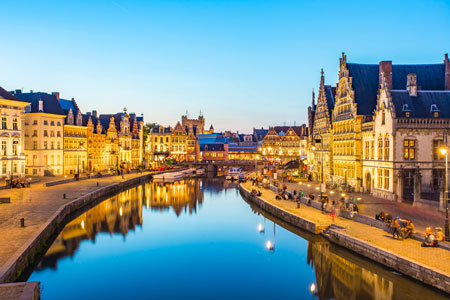 Belgium's cosy but vibrant hidden gem, Ghent, is often described as Europe's best kept secret. Located at the confluence of the Leie and Scheldt rivers, this beautifully-cultured city is easy to explore either on foot or tram. Adored by its locals, Ghent offers visitors the Castle of the Counts, the superb St. Bavo's Cathedral, the Gothic-style St Nicholas' Church – Ghent's oldest and most iconic landmarks – and the UNESCO-listed 91-metre-high Belfry, the tallest in Belgium.[ReadMoreMob]
The various fascinating galleries and museums to visit include the Museum of Fine Arts, Museum of History of Sciences and the Ghent City Museum. Nestled within the fabulous canal side architecture are many welcoming bars and restaurants, and a swathe of amazing shops. Ghent is also just a 30-minute train ride from Brussels, perfect for those who wish to visit the Belgian capital.
Despite its popularity with visitors, tourists remain surprisingly thin on the ground, which, for many, puts it ahead of other Belgian destinations such as Bruges and Antwerp.
Top Experiences
Belgian Chocolates
Belgium is famous around the world for its chocolate, and no visit here would be complete without indulging in a taste of this sweet treat. The country is home to a number of shops and chocolatiers, where visitors can learn how Belgian chocolates are made using only the finest of ingredients.
Bruges Historic Centre
The beautiful, compact city of Bruges was the centre of European trade during the Middle Ages, and its striking architecture has been carefully preserved over the centuries. Considered the heart of Bruges, the historic centre was declared a UNESCO World Heritage Site in 2000 and is well worth a visit.
The Three Towers
The famous three towers are St. Bavo's Cathedral, St. Nicholas' Church and The Belfry, which is 91m tall and is UNESCO-listed.
Cruises to Ghent
Departs: Southampton • Tue 17 Mar 2020
7 nights • Black Watch • W2007
Uncover a host of the Low Countries' highlights on this wonderfully rewarding week away; Black Watch will divert inland in the Netherlands and Belgium to bring you diverse scenery and the attractions of four captivating cities.
Sail straight into Amsterdam via the Nordzeekanaal and take advantage of an overnight stay in Dutch capital to visit Anne Frank House, take a boat tour of the iconic canals and more. The architectural wonders of Rotterdam – the Netherlands' second city – await you too.
Three days in Belgium will be packed with highlights – discover the famous landmarks of Ghent; cruise the Ghent-Terneuzen Canal and the Western Scheldt River; and stop overnight at Antwerp for diamond, chocolates and intricate architecture.
From £599pp
Fares Explained
|
What's Included
Departs: Dover • Mon 18 May 2020
7 nights • Boudicca • D2011
In typical Fred. Olsen fashion, you'll get closer to the quintessential highlights of four charming Dutch and Belgian cities and experience hours of memorable scenic river cruising on this seven-night sailing.
In Belgium, sail the picturesque Western Scheldt River to Antwerp, with its legendary diamonds and chocolate shops; then visit medieval Ghent, renowned for its historic churches and mighty spires.
Two days in the Netherlands begins with a call at Amsterdam, home to world-famous canals, museums and galleries; before energetic Rotterdam brings a futuristic end to your rewarding adventure.
From £999pp
Fares Explained
|
What's Included