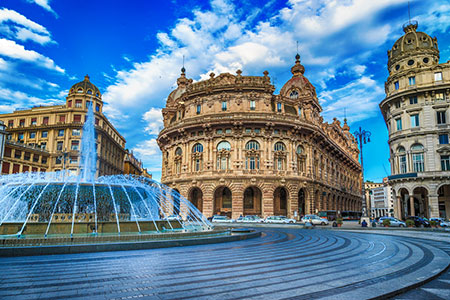 The port city, Genoa, is the capital of Italy's Liguria region and the birthplace of Christopher Columbus and pesto sauce. With a maritime trade that rivalled Venice over the centuries, Genoa's medieval Old Town is as stunning as any other in Europe.
Genoa's famously winding, narrow lanes open onto majestic squares like Piazza de Ferrari, site of an iconic bronze fountain and the Teatro Carlo Felice opera house. The city boasts a moored submarine, an aquarium and on the harbour front is the 14th century Palazzo San Giorgio.
Top Experiences
Pesto & Focaccia
Genoa is known for its delicacies: pesto and focaccia. Both pesto and focaccia bread are thought to have originated in Genoa, making this the best place to eat them. See them being made in the traditional way and then taste them for yourself – you won't find better.
Cruises to Genoa
Departs: Liverpool • Thu 02 Sep 2021
24 nights • Borealis • S2121
Embark on a voyage of discovery packed with typical experiences associated with some of Italy's most beautiful and inspirational regions, towns and cities.
Immerse yourself in the beauty and romance of the Amalfi Coast; be charmed by the Italian Riviera; and head to Tuscany, for tours to legendary Pisa or beautiful Florence.
Elsewhere, there's a rare visit to Milazzo on the gorgeous shores of Sicily; and calls at Civitavecchia – gateway to Rome, the Sardinian city of Olbia, and Roman-influenced Salerno.
From £3,699pp
Fares Explained
|
What's Included