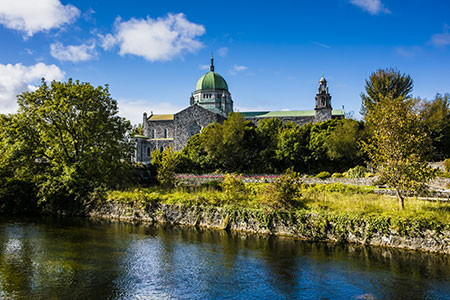 Rich in medieval heritage, yet oozing with contemporary style, Galway – Ireland's fifth largest city – is one of the Emerald Isle's most engaging destinations.
The city's vibrant centre is hub of culture, visitors and locals – many of which continue to speak age-old Irish dialects – alike flock here to be part of various festivals and events that take place throughout the year; visit the interesting museums and galleries, such as Galway City Museum; and sample the famous 'craic' at traditional Irish pubs.[ReadMoreMob] Intertwined with the delights of modern Galway are remnants of medieval walls and centuries-old structures such as the Spanish Arch and St Nicholas' Collegiate Church – the oldest medieval church still in use in Ireland – offering an insight into the city's fascinating past.
Situated on the breathtaking Wild Atlantic Way, Galway is also a gateway to Western Ireland's spectacular coastal scenes. Within easy reach of the city is the picturesque seaside suburb of Salthill, well-worth visiting to stroll the long promenade and admire views of Galway Bay and the Aran Islands, and sample locally-caught seafood, such as the area's famous oysters, at your pick of the fantastic restaurants. Further afield, it's possible to uncover the treasures of County Galway on day trips; the beautiful Connemara National Park and charming villages such as Spiddal and Roundstone are among the highlights.
Top Experiences
Fourteen Tribes
Galways' nickname - 'City of The Tribes', references the 14 merchant families who dominated political, social and commercial affairs in the city and much of the surrounding region during that time, and under whose rule the city flourished as an important trading port.. Nods to these ancestors abound throughout the city.
Gaelic Language and Culture
County Galway is an area of strong traditions and in the Connemara region Irish is widely spoken by many as a first language. Galway itself is known as 'Ireland's Cultural Heart', and is renowned for its vibrant lifestyle and numerous festivals, and for being a major centre for traditional Irish music.
Oysters
Galways is reputed for some of the finest native oysters in the world. The town hosts the world's longest running Oyster & Seafood Festival each September.
Cruises to Galway
Departs: Liverpool • Sat 22 May 2021
7 nights • Borealis • S2110
Offering chances to sample famous tipples, explore fascinating history and uncover authentic and iconic highlights aplenty, this seven-night circumnavigation of Ireland serves up a full-flavoured taste of the Emerald Isle.
Enjoy a visit to Northern Ireland's capital: learn of Belfast's links to Titanic, or tour to the spectacular Giant's Causeway; and in Dun Laoghaire, discover the delights of this beautiful, wonderfully enchanting town.
South of the Irish border you'll also stop at Cobh, Galway and Killybegs for rich history, the stunning scenes of Wild Atlantic Bay and some of Ireland's best beaches; and take in the scenic south-west coast aboard Borealis.
From £1,199pp
Fares Explained
|
What's Included
Departs: Southampton • Tue 03 Aug 2021
9 nights • Braemar • M2119
Circumnavigating the 'Emerald Isle', taking in scenic and city highlights along the way, makes for an immersion into Ireland's incredible beauty and rich culture.
Scenic cruising on small ship Braemar will be unforgettable; you'll navigate the spectacular Killary Fjord and Lough Swilly, see the mighty Cliffs of Moher and much more.
Ashore, Cobh and Belfast display seafaring heritage and links to Titanic; Galway offers seafood and medieval history; and there are iconic highlights aplenty to uncover in Dublin.
From £1,349pp
Fares Explained
|
What's Included