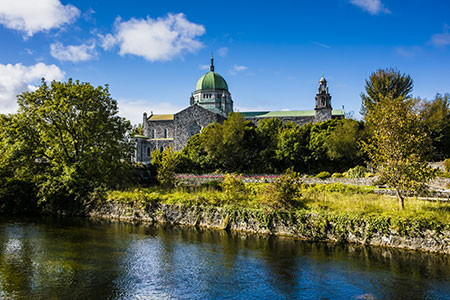 Rich in medieval heritage, yet oozing with contemporary style, Galway – Ireland's fifth largest city – is one of the Emerald Isle's most engaging destinations.
The city's vibrant centre is hub of culture, visitors and locals – many of which continue to speak age-old Irish dialects – alike flock here to be part of various festivals and events that take place throughout the year; visit the interesting museums and galleries, such as Galway City Museum; and sample the famous 'craic' at traditional Irish pubs. Intertwined with the delights of modern Galway are remnants of medieval walls and centuries-old structures such as the Spanish Arch and St Nicholas' Collegiate Church – the oldest medieval church still in use in Ireland – offering an insight into the city's fascinating past.
Situated on the breathtaking Wild Atlantic Way, Galway is also a gateway to Western Ireland's spectacular coastal scenes. Within easy reach of the city is the picturesque seaside suburb of Salthill, well-worth visiting to stroll the long promenade and admire views of Galway Bay and the Aran Islands, and sample locally-caught seafood, such as the area's famous oysters, at your pick of the fantastic restaurants. Further afield, it's possible to uncover the treasures of County Galway on day trips; the beautiful Connemara National Park and charming villages such as Spiddal and Roundstone are among the highlights.