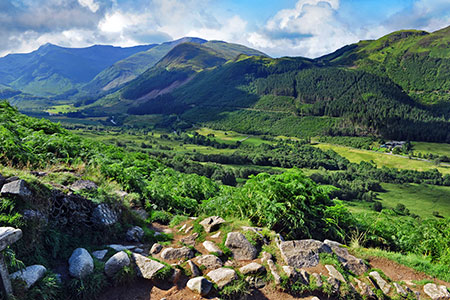 Known as the 'Outdoor Capital of the UK', Fort William is one of the most popular destinations in the breath-taking Scottish Highlands. Situated on the shore of Loch Linnhe, the town is the gateway to Ben Nevis – Britain's highest mountain, and Glen Nevis, home to Steall Falls.
The stunning surroundings attract visitors from around the globe and many visit the town to take advantage of the fantastic skiing, snowboarding and mountain bike riding. The glen has proved popular with movie makers, with Braveheart, Rob Roy and Harry Potter movies filmed there.

The town itself has plenty to reward visitors too, including beautiful centuries-old churches, the historic Old Fort – first built by Cromwell in 1654 – traditional pubs and fine restaurants that serve locally-sourced seafood. In nearby Corpach, the Treasures of the Earth Museum offers one of Europe's finest collections of crystals, gemstones and fossils. The historic Neptune's Staircase is a lock system comprising eight locks on the delightful Caledonian Canal, and a popular attraction.
Top Experiences
Glencoe
The Scottish Highlands are renowned worldwide for their breathtaking scenery, and a trip to Glencoe is a must for anyone visiting Fort William. Scotland's most famous glen (deep, narrow mountain valley), Glencoe is considered one of the most beautiful locations in the country. The glen, which is of volcanic origin, is named after the River Coe, which runs through it, and boasts spectacular panoramas – magnificent mountain peaks and cascading waterfalls.
Ben Nevis
Located behind the town of Fort William, Ben Nevis is the highest mountain in the British Isles. Known locally as 'the Ben', the mountain stands 1,345 metres (4,411 feet) above sea level. At the top lies the ruins of the old Ben Nevis Observatory, this was established in 1883 by the Scottish Meteorological Society to collect weather data, until 1904. Each year around 125,000 people climb Ben Nevis, which has been translated as both 'Venomous Mountain' and 'Mountain of Heaven', and a further 100,000 people partially ascend it.
Glenfinnan Viaduct
One of Scotland's most iconic landmarks, the Glenfinnan Viaduct is located along the West Highland railway line, which runs from Fort William to Mallaig. This railway is renowned for its Jacobite steam engine journey, considered one of the greatest railway journeys in the world. The viaduct itself, which features 21 arches, is the longest concrete railway bridge in Scotland, stretching for 380 metres (1,246 feet). Boasting views over Loch Shiel and the Glenfinnan Monument, the viaduct came to the world's attention when it was featured in the Harry Potter films along with the steam train, which became the Hogwart's Express.