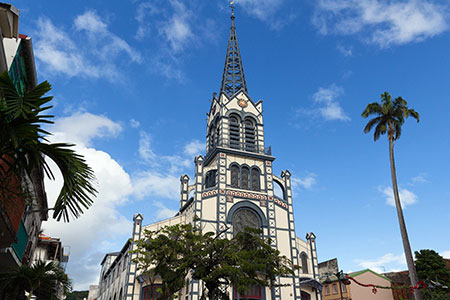 Fort-de-France is Martinique's lively, unmistakably French capital. The largest city on this stunning Caribbean island is surrounded by steep green hills onto which cling a bewildering array of houses.

Tropical Fort-de-France is renowned for its colonial architecture, and many key buildings are made of iron. These include the extraordinary 19th century Cathédrale St-Louis, which was rebuilt in 1978, and the Schoelcher Library, which was built for the 1889 Paris World Fair and shipped to the island piece by piece.

The stylish, rectangular park of La Savane is home to a statue of Napoleon's wife, Joséphine, a native of Martinique.
Destination Highlights
Mount Pelée volcano and St Pierre
The eruption of Mount Pelée in 1902 destroyed St Pierre, wiping out all but one of the town's 30,000 inhabitants. The only survivor was a prisoner, who survived because of his thick prison walls.
Crops
Well known and loved around the world, bananas are one of Martinique's most important exports. At Belfort Banana Plantation, admire the banana fields aboard an open-air tram and discover the processes of growing, irrigating, and harvesting this popular fruit.Martinique's treasures don't stop there. The nutrient-rich volcanic soil in the north of the island harbours blue sugar cane, renowned for its distinctive flavour. Depaz Rum Distillery is a keen exponent of blue sugar cane in its products.
Empress Josephine
Martinique is famous for many things, including being the birthplace of Napoleon's first wife, Josephine.