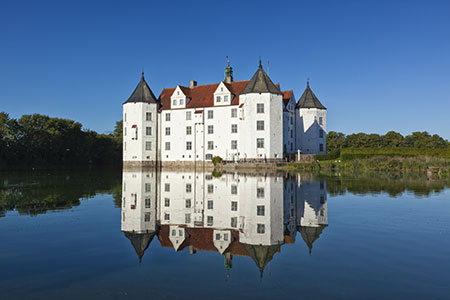 Flensburg, in the state of Schleswig-Holstein, is one of the northernmost towns in Germany. A delightful town with a breath-taking skyline and welcoming atmosphere, Flensburg is located on the Germany-Denmark border and uniquely combines elements from the cultures of both countries.

The town's waterfront is a central attraction, and is the ideal place to experience this unique cultural blend. There are several cafes and restaurants to enjoy plus bars serving locally brewed beers. Events such as regattas, festivals and concerts often take place here and tourists are always encouraged to get involved.

Away from the waterfront, there are many German and Danish churches, monuments and examples of architecture to admire and several museums and galleries to visit such as the Museumsberg Flensburg, which exhibits local history artefacts. Glücksburg Castle on the outskirts of Flensburg is also worth a visit.
Destination Highlights
Historic Harbour & Steamboat
The bustling Flensburg harbour is also historic (Historischer Hafen) and one of the most popular areas to visit. Numerous events are held here throughout the year, such as regattas, and you can also take traditional steamboat tours. The passenger steamer 'Alexandra' is a floating landmark for Flensburg and one of the only passenger steamboat still in operation in Germany. There are also other boats tours and hands-on sailing trips available.
Rum & Sugar Mile
Flensburg was one of the most important commercial ports for the Danish West Indies fleet in the 18th Century. Raw distilled rum 'Killdevil' was brought to Flensburg, where the strong drink was then blended and refined. The wooden casks in which it was stored caused the brownish colour. There were once over 200 rum houses in Flensburg, but now only two remain – Rumhaus Johanssen and Wein & Rumhaus Braasch, which is also a museum. The Rum & Sugar Mile has 20 stations.
Glücksburg Castle
Regarded as one of Northern Europe's most important castles and the largest moated castle in Germany, situated on the Flensburg Fjord. The summertime residence of Danish Kings and family home for the Dukes of Schleswig-Holstein for 400 years. The Castle has ties to Prince Philip, who was born Prince Philip of Greece and Denmark, of the House of Schleswig-Holstein-Sonderburg-Glücksburg.
Flensburger Beer
The Flensburg Brewery is Germany's most northern brewery and the world's biggest user of the 'swing top' bottle tops, where other producers have switched to crown tops. These tops produce the distinct 'plop' sound, which is the brewery's strap line. The beer is produced using spring water from the brewery's own water well, the Flensburger Gletscherquelle. The brewery produces 16 varieties of beer.