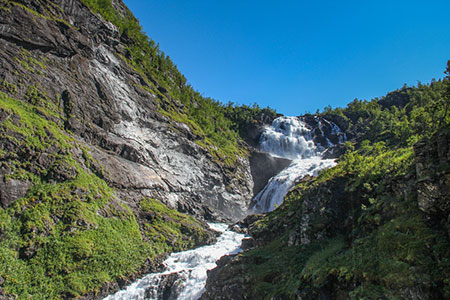 Flåm is a tiny village on the banks of the Aurlandsfjord, a branch of the spectacular Sognefjord – the longest and deepest fjord in Europe. Situated amongst scenes of picturesque orchards, hamlets, cottages and farmland, this is one of Norway's most breathtaking locations.
Visitors to Flåm are often drawn to the charming village church, with its traditionally decorated walls, while the Flåmsbana Railway is ranked highly on the fjordland's must-do list.[ReadMoreMob] Climbing over 20km as it passes through the magnificent mountain scenery, the Flåmsbana takes in incredible sights such as the striking Kjosfossen Waterfall, crashing 225 metres down rugged cliffs. The Flåmsbana Museum, exploring the railway's design and construction, is worth visiting too.
Flåm is also perfectly situated for boat tours to UNESCO-listed Naeroyfjord, one of National Geographic's top natural heritage sites.
Top Experiences
Flåmsbana Railway
Regarded as one of the most beautiful train rides in the world, the Flåmsbana Railway is an unmissable experience during a visit to Flåm. The journey offers a panoramic view of some of the most magnificent natural wonders in the Norwegian fjordland – travelling past lush green mountains and breathtaking waterfalls.
Nærøyfjord
The UNESCO World Heritage listed Naeroyfjord is the most beautiful, and wildest, arm of the magnifcent Sognefjord. A fjord cruise along this narrow, 17km wonder makes for one of the most memorable fjordland experiences, passing through unique scenes of sheer, snowtopped mountains, cascading waterfalls and idyllic farms clinging to the steep, towering mountains.
The Rallar Road
The Rallar Road follows the Bergen Railway from Haugastøl via Finse, Hallingskeid, and Myrdal down to Flåm. This thrilling and spectacular cycle route starts in the high mountains, 1,000 metres above sea level at Haugastøl, rises to more than 1,300 metres above sea level, and then descends right down to the fjord and sea