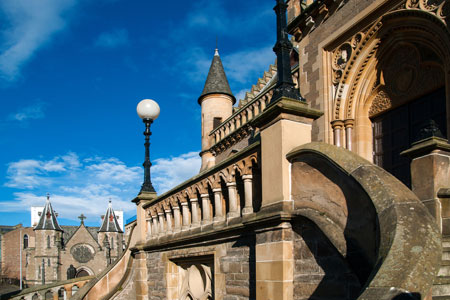 The Scottish coastal city of Dundee on the Firth of Tay estuary has a rich and varied heritage. The city's rejuvenated waterfront has two nautical museums worth visiting: RRS Discovery, Captain Scott's Antarctic expedition ship, located at Discovery Point, and the 19th century warship, HM Frigate Unicorn.

In the city, the Verdant Works museum celebrates Dundee's jute-manufacturing heritage, and the restored mill has working machines and interactive displays detailing the rise and fall of products such as rope and sacking. Dundee's Art Gallery & Museum, The McManus, displays art and archaeological finds, and Dundee is also famous for its world-renowned marmalade.
Top Experiences
Glamis Castle
The 17th century fairy-tale Glamis Castle, which is situated in acres of parkland, has been described as one of the finest castles in all of Scotland. From 1372, the castle was the home of the Earls of Strathmore, and was famous for being the childhood home of the late Queen Mother. Housing a stunning collection of furniture, artwork, tapestries and weapons, the castle is also where, according to Shakespeare, Macbeth murdered King Duncan.
St. Andrews
Located on the east coast of Scotland, the medieval town of St Andrews is named after Scotland's patron saint. It is renowned for its golf course, and is considered by many to be the home of golf – the Old Course is one of the oldest and most famous courses in the world. St Andrews is also home to a university – the first in Scotland and one of the oldest in the world, which was where Prince William and Kate Middleton famously met.