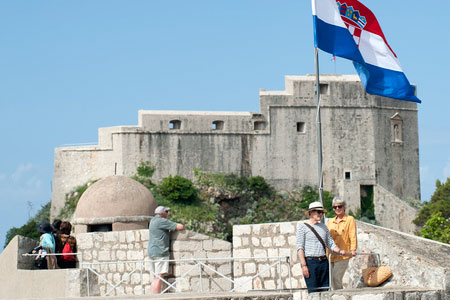 Perched between mountains and sea on Croatia's Dalmatian Coast, Dubrovnik is the 'Pearl of the Adriatic'. A UNESCO World Heritage Site, the historic maritime city of Dubrovnik is one of Croatia's most popular and interesting tourist destinations. Although severely damaged by an earthquake in 1667, and the focus of ongoing sieges and wars over the centuries, the city has managed to preserve many stunning monuments from the Renaissance (Sponza Palace), Gothic (Rector's Palace) and Baroque (St. Blaise Church) periods.

The visit typically starts at the Ramparts – the huge stone walls that encircle the Old Town that offer wonderful views of the Adriatic's blue waters and the surrounding Baroque palaces, fountains and sculptures. The Onofrio Fountain at Pile Gate - built in 1438 for people with the plague to wash at, and Fort Lovrijenac – built to protect the city from Venetian invasion, are also worth discovering. [ReadMore]

The Old Town is famous for its limestone thoroughfare, the Stradun, and the squares off it, which are festooned with popular open-air bars and cafés. Fresh local seafood tops the menu in Dubrovnik, while the cable car up to Mount Srđ is another popular distraction.