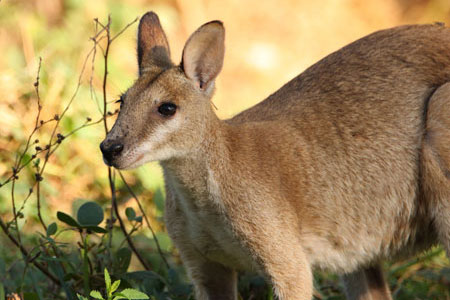 Australia's only tropical capital city, Darwin, is an astonishing, confident city on the Timor Sea with a personality all of its own.

Darwin's small, diverse city has all the vibrancy of a cosmopolitan metropolis combined with the breath-taking natural landscapes of the Outback. People from more than 50 nations make up its population and fill the many fine street-side restaurants and bars. Innovative museums celebrate the city's past, and smart galleries showcase the Indigenous art unique to the region. The Darwin Military Museum – which reveals dark tales of World War II, is well worth discovering.

Darwin's backyard is packed with nature: the gardens and mangroves of Kakadu and Litchfield National Parks are close, and the stunning unique Tiwi Islands can be reached by boat. Visitors can also enjoy a fishing trip for barramundi in a tinny (small boat). For more wildlife, Crocodylus Park has hundreds of crocodiles, big cats, spider monkeys, marmosets and many large birds.
Destination Highlights
Territory Wildlife Park
Located approximately 60 kilometres (37 miles) south of Darwin, the awardwinning Territory Wildlife Park offers an excellent introduction into Australian wildlife. The wildlife park, which is spread over 400 hectares of natural bushland, showcases flora and fauna native to the Top End of the Northern Territory.
Museum and Art Gallery of the Northern Territory
Situated in a tropical garden, the Museum and Art Gallery of the Northern Territory is one of the most popular museums in the Top End of Australia. The present building was opened in 1981 and showcases the area's art, culture and history.
Crocodiles
Meet the longest-surviving inhabitant of the Northern Territory: the crocodile. The Top End is home to two kinds of crocodiles: freshwater, which are considered relatively harmless, and saltwater, one of the fiercest in the reptile world. Measuring up to an average four to five metres in length and weighing up 500 kilograms, Australian saltwater crocodiles are the largest and most aggressive of all crocodile species. There are more of them in the Northern Territory than anywhere else in the world, so this really is the best place to see them.
Military History
Scattered across Darwin are numerous historic sites and museums dedicated to sharing the story of how Australia's northernmost city was exposed to war. On 19 February 1942, Japanese planes dropped more than 300 bombs on Darwin Harbour. Despite its sizeable military base, Darwin was ill-equipped to deal with Australia's first enemy attack.