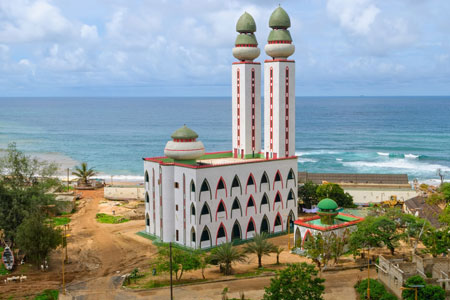 The thriving Atlantic port of Dakar on Africa's West coast is the capital of Senegal and a city of extremes. Dakar is a city that sprawls across the Cap-Vert peninsula; a jumble of former French colonial towns, made intriguing by its people and the atmosphere they create.
Today's skyscrapers, old colonial buildings and animated street markets are juxtaposed in bizarre incongruity, and its hot and dusty streets are brought to life by the locals.

The traditional medina quarter is home to the Grande Mosquée, and its towering minaret. The Musée Théodore Monod displays cultural artefacts from Dakar's colonial past. The city's vibrant nightlife is inspired by the local mbalax music, and for further relaxation, there are some excellent Atlantic beaches, while nearby N'Gor offers wonderful snorkelling.
Destination Highlights
Gorée Island
The island of Gorée lies off the coast opposite Dakar. From the 15th to the 19th century, it was the largest slave-trading centre on the African coast. Ruled in succession by the Portuguese, Dutch, English and French, its architecture is characterised by the contrast between the grim slave-quarters and the elegant houses of the slave traders. Today it continues to serve as a reminder of human exploitation and as a sanctuary for reconciliation.
Lake Retba
Less than an hour away from the capital city of Senegal there is an unusual lake that will surely catch your eye because of its unusual yet vivid pink colour. Lake Retba (or Lac Rose as it is known by locals) is separated only by some narrow dunes from the Atlantic Ocean and, as expected its salt content is very high. Its salinity content compares to that of the Dead Sea and during the dry season it exceeds it. Its distinct pink colour is caused by the Dunaliella salina bacteria, which is attracted by the lake's salt content. The bacteria produces a red pigment in order to absorb the sunlight, thus giving the lake its unique colour.