Cruising Tunulliarfik Fjord
Gliding along the glass-like still waters of the fjord, in between drifting ice bergs that have separated from the ice cap nearby and alongside native seals and whales, you will feel an uncanny sense of space, tranquillity and relaxation on a scenic cruise through this incredible natural wonder.
Cruises to Cruising Tunulliarfik Fjord
Departs: Dover • Sat 14 Aug 2021
28 nights • Bolette • T2121
Take advantage of a rare opportunity to witness the eerie Midnight Sun in Norway and search for a glimmer of the awe-inspiring Aurora Borealis in Iceland.
Be mesmerised by small ship scenic cruising, including a glide along glorious Prins Christiansund; an up-close view of the astonishing Tuna Glacier; and a glimpse of volcanic Jan Mayen Island.
Make memories ashore, with chances to explore the Qooroq Ice Fjord; see Longyearbyen's wild landscapes; tour Iceland's Golden Circle; and much more.
From £4,499pp
Fares Explained
|
What's Included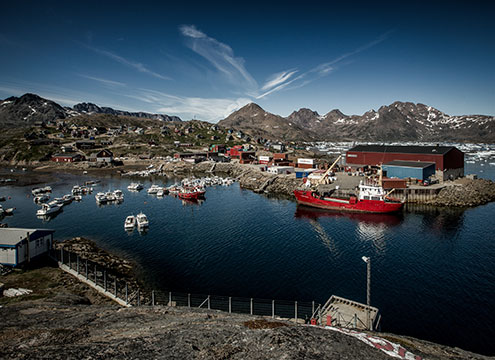 Departs: Liverpool • Sat 14 Aug 2021
14 nights • Borealis • S2119
Astonishing waterways, spectacular landscapes and enchanting settlements await, as Borealis diverts off the well-beaten tourist routes to bring you the wonders of Greenland's most remote regions.
You'll experience scenic cruising of awe-inspiring Prins Christiansund, and can tour to the remarkable Qooroq Ice Fjord to stimulate your senses with the sight and sounds of magnificent icebergs.
Explore Qaqortoq and Nanortalik's for a taste of local history, culture and traditions too; and enjoy two days in Iceland, uncovering world-famous natural wonders.
From £2,599pp
Fares Explained
|
What's Included