Tempelfjorden is a fjord branch at the inner end of Sassenfjorden, a part of Isfjorden at Spitsbergen, Svalbard. It is located between Sabine Land and Bünsow Land. The fjord is named after the mountain Templet, which resembles a temple. Every winter, the sailing vessel Noorderlicht is intentionally frozen into Tempelfjorden.
Cruises to Cruising Tempelfjorden
Departs: Dover • Sat 14 Aug 2021
28 nights • Bolette • T2121
Take advantage of a rare opportunity to witness the eerie Midnight Sun in Norway and search for a glimmer of the awe-inspiring Aurora Borealis in Iceland.
Be mesmerised by small ship scenic cruising, including a glide along glorious Prins Christiansund; an up-close view of the astonishing Tuna Glacier; and a glimpse of volcanic Jan Mayen Island.
Make memories ashore, with chances to explore the Qooroq Ice Fjord; see Longyearbyen's wild landscapes; tour Iceland's Golden Circle; and much more.
From £4,499pp
Fares Explained
|
What's Included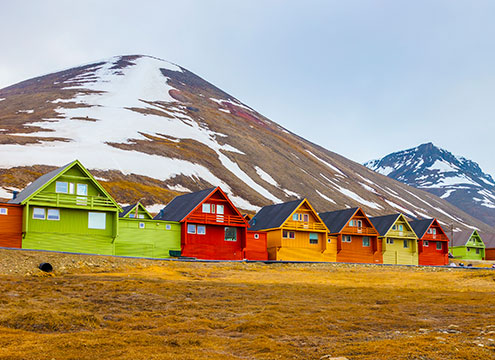 Departs: Newcastle • Wed 22 Jun 2022
15 nights • Balmoral • L2217
Experience a unique exploration of Norway, featuring a week-long discovery of unique landscapes, breathtaking waterways and fascinating remote settlements found deep within the Arctic Circle.
Be immersed in the stunning beauty and incredible history of eerie, rarely-visited towns in rugged Spitsbergen; visit the North Cape; and see the astonishing Tuna, Nordenskiöldbreen and Black glaciers.
Enjoy scenic fjord cruising on Balmoral and visit destinations such as Olden and Åndalsnes, for tours to unmissable fjordland wonders, plus revel in the wonder of the mesmerising midnight sun.
From £2,499pp
Fares Explained
|
What's Included