Bask in the remoteness of Seyðisfjörður as your ship negotiates the twists and turns of the fjord en route to the picturesque town of the same name.
Sailing 17 kilometres along the calm blue waters, you'll take in views of huge mountains, hills and cliffs before the sound of thundering waterfalls captures your attention. This incredible display of nature is formed by the river Fjarðará as it cascades down to a lagoon at the head of the fjord.
Cruises to Cruising Seyðisfjörður
Departs: Dover • Thu 03 Jun 2021
12 nights • Bolette • T2114
With natural wonders and wildlife awaiting your discovery amongst Iceland's incredible landscapes and waterways, this cruise will leave you spellbound throughout.
An overnight stay in Reykjavik allows ample time to witness the beauty of the Golden Circle's hot springs and waterfalls on tour, visit the famous Blue Lagoon and much more.
You'll also have chances to experience fjord kayaking and embark on an unforgettable whale watching adventure; and see the spectacular sights of Seyðisfjörður, Eyjafjörður and Hrisey Island from Bolette.
From £1,799pp
Fares Explained
|
What's Included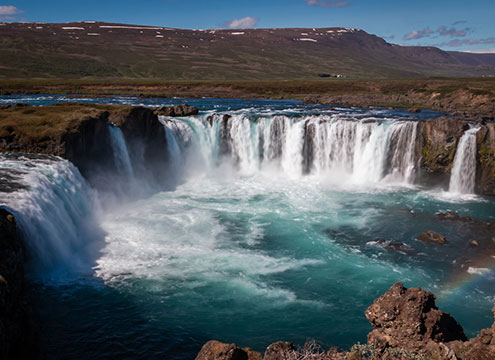 Departs: Newcastle • Wed 11 Aug 2021
9 nights • Balmoral • L2125
Be spellbound by beautiful scenery and spectacular natural wonders on a simply unforgettable circumnavigation of Iceland's rugged, unspoilt lands.
Stop overnight in Reykjavik, allowing time to explore the Golden Circle and see its bubbling geysirs and thundering waterfalls; or even bathe at the beautiful Blue Lagoon.
Discover remote bird havens and wonderlands of tundra, cliffs and waterfalls from remote Ísafjörður and Seyðisfjörður; and experience a whale watching adventure of a lifetime from Akureyri.
From £1,449pp
Fares Explained
|
What's Included