Cruising Prins Christian Sund
Slicing between the Greenlandic mainland and the pretty islands of Cape Farewell, Prins Christiansund is an example of Mother Nature's work at it's finest. A simply spectacular waterway, which only opens up in the summer when huge icy blockades melt away, this enticing route begs to be explored, with its astonishing landscapes punctuated by soaring snow-topped mountains, magnificent glaciers and granite cliffs
A diversion into the sound on a Fred. Olsen cruise to Greenland is always an unforgettable experience; smaller ships are able to bring you closer to the wonders of Prins Christiansund, to allow you to fully appreciate their natural splendour, and take advantage of unmissable photo opportunities. Look out for incredible wildlife too, as you revel in the unspoilt peace, tranquility and beauty; bearded seals, seabirds such as black guillemots, and even minke and blue whales, are often seen enjoying their spellbinding natural habitat here.
Cruises to Cruising Prins Christian Sund
Departs: Dover • Sat 14 Aug 2021
28 nights • Bolette • T2121
Take advantage of a rare opportunity to witness the eerie Midnight Sun in Norway and search for a glimmer of the awe-inspiring Aurora Borealis in Iceland.
Be mesmerised by small ship scenic cruising, including a glide along glorious Prins Christiansund; an up-close view of the astonishing Tuna Glacier; and a glimpse of volcanic Jan Mayen Island.
Make memories ashore, with chances to explore the Qooroq Ice Fjord; see Longyearbyen's wild landscapes; tour Iceland's Golden Circle; and much more.
From £4,499pp
Fares Explained
|
What's Included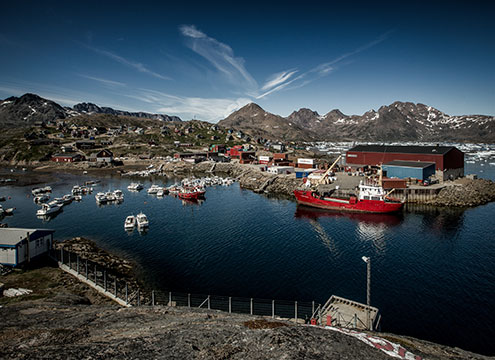 Departs: Liverpool • Sat 14 Aug 2021
14 nights • Borealis • S2119
Astonishing waterways, spectacular landscapes and enchanting settlements await, as Borealis diverts off the well-beaten tourist routes to bring you the wonders of Greenland's most remote regions.
You'll experience scenic cruising of awe-inspiring Prins Christiansund, and can tour to the remarkable Qooroq Ice Fjord to stimulate your senses with the sight and sounds of magnificent icebergs.
Explore Qaqortoq and Nanortalik's for a taste of local history, culture and traditions too; and enjoy two days in Iceland, uncovering world-famous natural wonders.
From £2,599pp
Fares Explained
|
What's Included