The Nieuwe Mass is a 24 kilometre-long distributary of the Netherlands' mighty Rhine River.
On a relaxing cruise along the Nieuwe Maas, you'll pass lovely waterfront houses, see the iconic Erasmusbrug Bridge and have the opportunity to savour the sight of Rotterdam's soaring skyline. Be sure to have your camera to hand as you glide west along this wonderful 24 kilometre distributary of the mighty Rhine River.
Cruises to Cruising Nieuwe Maas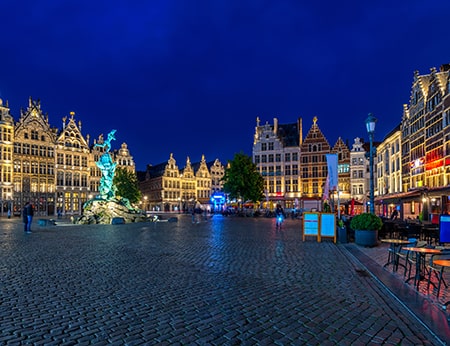 Departs: Dover • Sat 01 May 2021
5 nights • Bolette • T2110
With a destination to explore every single day, plenty of highlights awaiting discovery in each, and evenings of scenic cruising to enjoy too, this five-night escape is a rewarding Bank Holiday break.
After a day in contemporary Rotterdam, a specially timed visit to Amsterdam will afford a chance to visit the Keukenhof Gardens revel in the seasonal colours and scents of iconic tulips fields.
An overnight stay in Antwerp allows ample time for exploration: you can uncover gems such as the legendary diamond district and Royal Museum of Fine Arts, and indulge with authentic Belgian chocolates.
From £599pp
Fares Explained
|
What's Included
Departs: Southampton • Fri 28 May 2021
5 nights • Braemar • M2112
A rewarding journey from start to finish, this enriching five-night triple city break offers a blend of impressive sights, cultural delights, tempting flavours and a taste of the Fred. Olsen experience.
Enjoy two rewarding days in the Netherlands: you'll sail the Niewe Maas to futuristic Rotterdam and visit Amsterdam for a chance to take in its world-famous attractions and explore the iconic canals.
In Belgium, enjoy ample time to uncover the gems of Antwerp, such as Grote Markt, the Diamond District and traditional Belgian chocolate shops, at leisure during an overnight stay.
From £699pp
Fares Explained
|
What's Included