The Lustrafjord – an arm of the stunning Sognefjord – boasts incredible natural beauty and spectacular landscapes and as you cruise through the glorious glaciers, magnificent mountains and charming villages that line the wonderful, often bright green waters, you'll see why the fjord has inspired the work of many great Norwegian artists over the years.
Home to some of Norway's most famous landmarks, there will be plenty of fantastic photo opportunities on a scenic cruise through Lustrafjord. Be sure to keep an eye out for the UNESCO-listed Urnes Stave Church – the oldest stave church in Norway – and the magnificent 218 metre high Feigumfossen Waterfall, one of the country's highest falls.
Cruises to Cruising Lustrafjord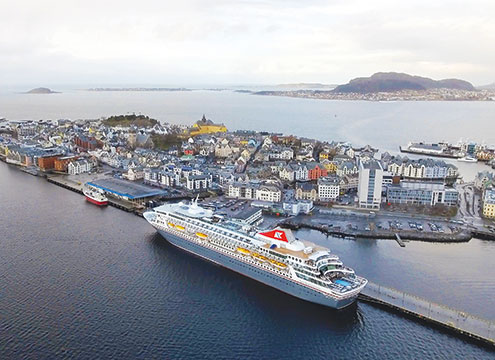 Departs: Rosyth (Edinburgh) • Sat 31 Jul 2021
5 nights • Balmoral • L2123
Experience a short, yet unforgettable exploration of the beautiful fjordland in just five nights, thanks to Rosyth's convenient closer proximity to Norway.
From the decks of Balmoral, immerse yourself in the postcard-perfect beauty of Lustrafjord and Fjaerlandsfjorden.
Step ashore in Skjolden and Ålesund, for chances to ride the Rauma scenic railway; see the Sunnmøre Alps from Mount Aksla; explore the spellbinding Jostedalen Valley; and much more.
From £799pp
Fares Explained
|
What's Included