Often by-passed by ships sailing through Storsfjorden en route to Geirangerfjord and Hellesylt, the breathtaking scenery of Hjørundfjord – a 35 Kilometre-long branch of Storsfjorden – is rarely seen on Norwegian fjords cruises aboard larger vessels.
However with Fred. Olsen, on board our smaller-sized ships, you can divert into this incredible waterway to marvel at the astonishing, snow-capped peaks of the Sunnmøre Alps and steep green hills which frame the fjord's glass-like waters – an unforgettable scenic cruising experience.
Cruises to Cruising Hjørundfjord
Departs: Liverpool, United Kingdom • Sat 18 Jul 2020
9 nights • Black Watch • W2020
Sorry, this cruise has been cancelled.
Departs: Newcastle, United Kingdom • Wed 09 Sep 2020
7 nights • Balmoral • L2023
Sorry, this cruise has been cancelled.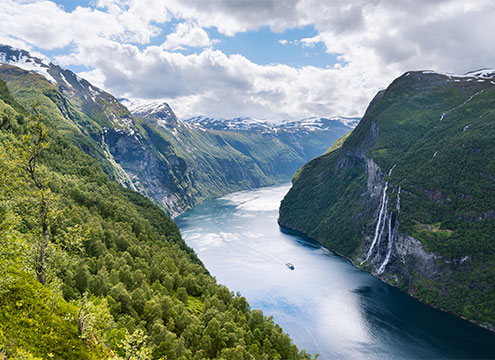 Departs: Newcastle • Thu 06 May 2021
7 nights • Balmoral • L2113
Hours of unforgettable scenic cruising complements time spent ashore seeking-out astonishing sights and experiences on this magical seven-night exploration of Norway's spellbinding fjordland.
Marvel at Lysefjord's unique landscape; experience size-restricted Nærøyfjord; pass by the Seven Sisters Waterfall and Hornelen sea cliff; and much more aboard
Visit Bergen, home of the iconic Bryggen Wharf and Troldhaugen Museum; Flåm, for the Flåmsbana Railway; Olden, gateway to the Briksdal Glacier; and Hellesylt, to take in Hellesylt Waterfall.
From £999pp
Fares Explained
|
What's Included