Cruising by Old Man of Hoy
Britain's tallest and arguably most famous sea stack, the Old Man of Hoy rises 450 feet out of the Atlantic Ocean on the coast of Hoy Island, in Scotland's rugged Orkney archipelago.
Originally an arch with two 'legs' resembling those of an old man, hence the landmark's nickname, the erosive power of the weather has reduced the stack to a single pillar which, owing to a huge crack slicing through the middle of it, geologists believe will one day collapse into the sea.
As it stands today though, defiantly battling the Atlantic tide and Scottish storms, the Old Man of Hoy remains one of the UK's most popular climbing spots and an impressive sight to enjoy from the comfort of your cruise ship.
Cruises to Cruising by Old Man of Hoy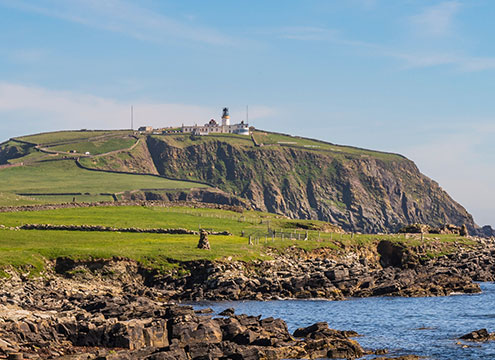 Departs: Rosyth (Edinburgh) • Thu 05 Aug 2021
5 nights • Balmoral • L2124
In just five nights, visit two beautiful countries to uncover intriguing islands, natural wonders and enchanting wildlife for a short, yet simply unforgettable summer break.
See magnificent sea stacks guarding the rugged Orkneys; and visit the Shetlands to take in gorgeous coastal scenery, remarkable ancient settlements and wildlife such as iconic native ponies.
Marvel at the unspoilt beauty of the uninhabited islets of Gáshólmur and Tindhólmur; arch-shaped Drangarnir and picturesque Gásadalur; plus the bird habitats of Hestur Island and Mykines.
From £749pp
Fares Explained
|
What's Included