Cruising by Dinosaur Rock cruises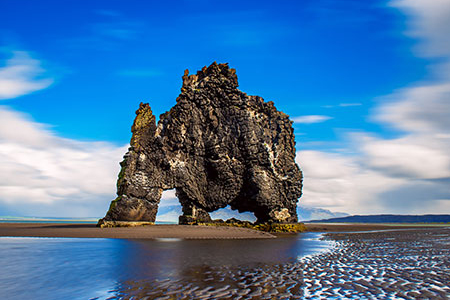 Dinosaur Rock should be on every 'must-see' list, as it really must be seen to be believed. The history of this remarkable 15 metre-high rock formation is uncertain; and while many say it looks like a dinosaur, others argue that it resembles an elephant or a rhino drinking from the glorious blue waters. Sailing slowly past, you'll have the chance to decide for yourself and capture fantastic photographs of this remarkable natural wonder.
The beautiful basalt stack is also home to several species of seabirds, including gulls and fulmars, so it's a great place for keen birdwatchers to visit too. Be sure to bring your binoculars and your camera!
Cruises to Cruising by Dinosaur Rock
Departs: Liverpool • Tue 01 Sep 2020
11 nights • Black Watch • W2025
On an 11-night voyage of epic proportions, you'll take in a selection of the most spectacular scenic wonders and amazing, diverse wildlife for which Iceland is rightly renowned for.
Uncover the gems of the Golden Circle, including the mighty Gullfoss Waterfall and gushing geysers, from Reykjavik; and experience scenic cruising by Hornstrandir, Drangaskörð and Dinosaur Rock.
Visiting Akureyri offers a chance to embark on a once-in-a-lifetime whale watching adventure; while a taste of Eastfjord life in stunning Seyðisfjörður and Eskifjörður is sure to leave you enchanted.
From £1,899pp
Fares Explained
|
What's Included