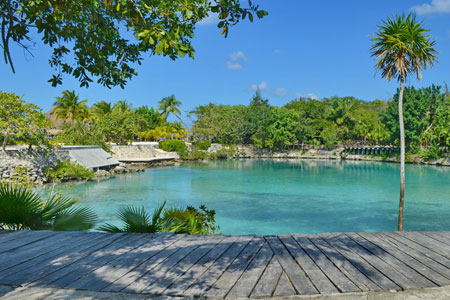 Cozumel, is famed for its Mayan history, coral reefs and scuba diving. Lying off the Yucatan coast, the island has over 40 shrines to Ixchel, the Mayan goddess of the moon, the sea and fertility. Many are carved from coral – the island is part of the Great Maya Barrier Reef – and archaeologists regularly find the small clay dolls, which were offerings to the goddess. [ReadMoreMob]
The eco-park, Chankanaab, is the number one attraction in Cozumel; a lagoon with underwater caverns, and home to dolphins, manatees, iguanas and sea turtles. The relaxing haven of the National Marine Park boasts stunning beaches and beautiful botanical gardens. The popular diving spot around a section of the Mesoamerican Reef is the location of the amazing submerged sculptures of Museo Subacuático de Arte.
Museo de la Isla de Cozumel, in the small town of San Miguel, has interesting exhibits about the island, its flora and fauna, and the formation of the coral reef. There are also Mayan artefacts and various items from its time as a Spanish colony, including cannons, swords and armour.