Badly damaged by a hurricane in 2007, the Mexican resort of Costa Maya has now grown to and beyond its former glory. With its modern shopping malls, grand central plaza complete with swimming pools, bars and trendy cafés and an impressive beach promenade, it makes for the perfect holiday escape for Mexicans and visitors from around the world alike.
Away from Costa Maya's modern heart though are plenty of historical delights that made this particular region such a popular destination in the first place. The region around the village is famous for its magnificent Mayan ruins, such as the ancient city of Chacchoben, built in the fourth century. Nearby, the former fishing village of Mahahual, once an important part of the region's commerce, is now a popular spot thanks to its soft white-sand beaches with grass-thatched open-air stalls selling freshly grilled fish and seafood.
Cruises to Costa Maya
Departs: Southampton • Tue 04 Jan 2022
79 nights • Bolette • T2201
Immerse yourself in an intoxicating blend of history, culture and beauty as you discover iconic destinations and unforgettable highlights on an epic, in-depth exploration of Latin America.
You can have a private mass at Rio's legendary Christ the Redeemer; dance the tango in Buenos Aires; tour to magnificent Machu Picchu; and much more.
Scenic cruising by Cape Horn; through the Chilean Fjords spectacular mountains and glaciers; and navigating the Panama Canal will create everlasting memories.
From £8,299pp
Fares Explained
|
What's Included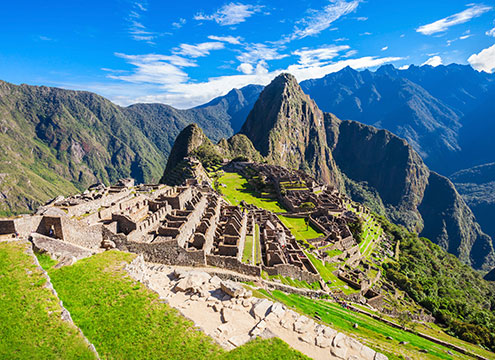 Departs: Buenos Aires • Sat 29 Jan 2022
54 nights • Bolette • T220304
With scenic cruising of incredible waterways and visits to stunning South and Central American destinations, you're in for an expedition packed with highlights.
Marvel at the spectacular scenes of Patagonia, the Andes and Chilean Fjords; take the chance to visit ancient Machu Picchu in Peru; and cruise the remarkable Panama Canal.
Explore historic Costa Rican and Colombian cities; enjoy a taste of authentic Cuban life in Havana; uncover Cozumel's Mayan ruins; and sample paradise in the Bahamas and Bermuda.
From £7,249pp
Fares Explained
|
What's Included
Departs: Callao • Tue 22 Feb 2022
30 nights • Bolette • T2204
Sailing from Peru back to the UK via captivating cities and beautiful islands in the Americas, you're in for a holiday of lifetime discovering cultural, historic and scenic wonders galore.
Begin with a memorable sailing of the magnificent Panama Canal, before Puerto Limón and Cartagena de Indias add Hispanic flair to the mix.
Seek out Cozumel's Mayan ruins and fauna-rich coral reefs; uncover the ancient sites of Belize City; and immerse yourself in the peace and paradise of the glorious Caribbean.
From £3,999pp
Fares Explained
|
What's Included