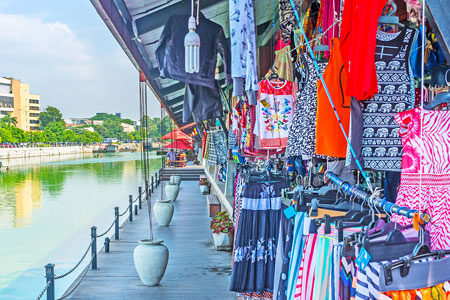 The port city of Colombo is rich with colonial heritage, religions, races and cultures. With a population of over 4.5 million people, Colombo is a bustling, fascinating and noisy city. It combines Dutch and British colonial buildings, with Buddhist temples, Islamic mosques, Christian churches, and modern gleaming skyscrapers. The impressive Colombo National Museum, dedicated to Sri Lankan history, is worth uncovering and it borders the sprawling Viharamahadevi Park, home to a giant Buddha. [ReadMoreMob]
The narrow cobbled streets of Pettah, the main bazaar district, are full of shops and street markets selling an amazing array of goods at bargain prices. There are plenty of places to eat, from small shops selling pancakes to coffee shops and upmarket restaurants.
A more rustic, slow-paced Sri Lankan experience can be found in nearby Negombo, with its quaint village streets and lively fish market. Alternatively, sun seekers can venture to the private beach of Mt. Lavinia, located on the breath-taking Golden Mile beachfront.
Top Experiences
Ceylon Tea
Sri Lanka is famed for its tea production, with Ceylon a popular variety of black tea. Taste can vary, depending on the area of growth, although the classic flavour is bold and full. Served either warm or iced, it is a firm favourite of many tea drinkers.
Kelaniya Temple (Kelaniya Raja Maha Vihara)
Buddhists believe this temple, which has been destroyed and restored on multiple occasions, to have been hallowed during Buddha's final visit to Sri Lanka. The temple has an intimate symbolic association with the political dynamics of the country.
Cinnamon
Sri Lanka is the largest producer of Ceylon cinnamon, which is considered better quality than the cheaper Cassia cinnamon. The Ceylon cinnamon tree is indigenous to Sri Lanka, so it's no surprise that the country accounts for most of the world's supply.