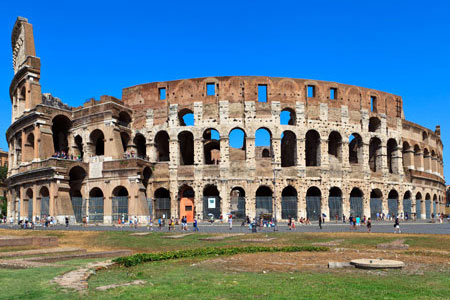 Civitavecchia is the coastal port to the northwest of Rome, and gateway to the Eternal City. This 2nd century port retains many features from its long history, including the Roman Dock and the 16th-century Michelangelo Fort. The National Archaeological Museum exhibits many ancient artefacts, and many visitors discover Terme Taurine, the ruins of a Roman thermal bath.
Principally, however, the port is the main access point for Italy's capital. From the Colosseum and Forum of Ancient Rome to the city's great masterpieces of Renaissance and Baroque art and architecture, the emblems of past grandeur and wealth provide a grandiose backdrop for the elegant designer boutiques, pavement cafes, inviting trattoria and countless sophisticated pleasures of today's vibrant capital.
Destination Highlights
The Colosseum
Originally known as the Flavian Amphitheatre built in AD 72 by Emperor Vespasian, the Roman Colosseum was designed to hold over 70,000 spectators, seated and standing in order of rank to watch gladiatorial shows and hunts of wild animals, which in turn, became the symbol of the Eternal City. With its 80 arched entrances, the Colosseum is today the most recognisable of Rome's classical buildings.
The Pantheon
The Roman Pantheon is the most complete ancient Roman building in the city of Rome. The Temple, built between AD 118 and 125 is dedicated to all gods of Pagan Rome and has the biggest brick dome in the history of architecture.
Roman Aqueducts
The Roman aqueducts were one of the greatest inventions of the Romans – providing clean, safe drinking water and sewer systems. Many of the aqueducts have been destroyed, although three that are still standing and worth a visit are the Arch of Drusus, Porta Maggiore and Nero's Aqueduct