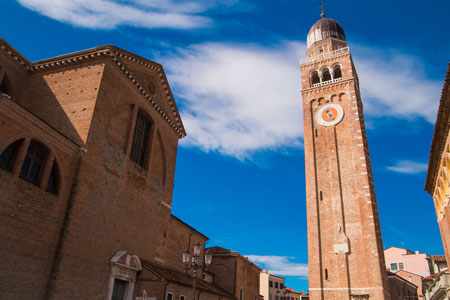 Chioggia is the unspoiled Venice of fishing tradition, pretty beaches, natural reefs and more fresh seafood than is ever imaginable. Away from the tourist-packed attractions of Venice, the laidback island town of Chioggia offers a slice of authentic Venetian lifestyle with none of the hustle and bustle. With pretty canals to explore and historic architecture to admire, it's a wonderful place to spend a relaxing day in the Adriatic sunshine.

Situated south of Venice in the Venetian Lagoon, the unpretentious Chioggia may be similar in appearance to its iconic neighbour, but represents a very different experience. The city offers a Venetian lifestyle at a slower, easier pace. The busy fishing marinas and pedestrianised alleyways lined with historic buildings and traditional terracotta-topped houses, are a delight. [ReadMore]

Popular highlights include the morning fish market and several sublime seafood restaurants serving the day's catch. Chioggia has its share of museums and beautiful, centuries-old churches – Chiesa di San Domenico and Chiesa di San Giacomo Apostolo in particular are well worth a visit. The dominating cathedral, or Duomo, at the far end of the Corso also needs uncovering.

Chioggia is linked by a bridge to the resort island town of Sottomarina and its long, sandy beach along the Adriatic Coast. The promenade is lined with a number of fantastic restaurants and friendly bars.